Money Smart Week: Are you making smart choices?
Choose to control your money to achieve your goals.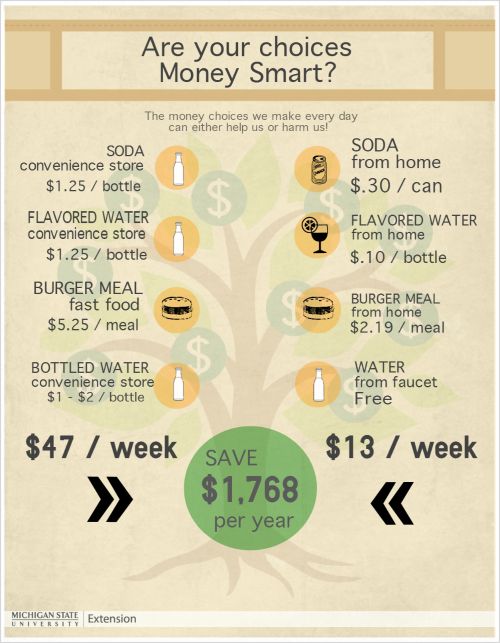 When we hear about terms like money management, budgets and spending plans, it may seem very formal and not how we spend money in our own lives. However, we are making money decisions almost every day. We decide on how we spend our money in a variety of ways.
Let's think about some of the small choices we make every day. We decide whether to:
Purchase bottled water for $1 - $2 per bottle from a vending machine or convenience store or take water from home in an insulated cup with ice (assuming you already have an insulated cup), which costs only pennies for the cost of the water from the faucet and electricity to produce ice in the freezer.
Purchase flavored water, which might cost between $1.21 to $1.59 per bottle or to make our flavored water which would be about 10 cents per 16-ounce bottle.
Purchase a fast food meal – quarter pounder, french fries and soda "combo" at about $5.25 versus $2.19 to prepare the same meal at home.
Purchase a convenience meal or have a home produced "fast food meal" (freezer meals for example).
Buy soda from a vending machine at $1.25 per 20 ounce bottle versus a 12 ounce can of soda purchased by the case which cost 30 cents per can ($6.99 per 24 ct. case).
When we add up all of these small transactions we make every day, the money can add up to significant amounts over a year's time.
A spending plan helps us to think about where our money goes every day. It is a map for getting from where we are now and where we want to go in our lives. Where we want to go depends on what goals we have; do we want to send our children to college, purchase a home, retire with a certain amount of funds available, etc.
Check out MI Money Health for tools you can use to make decisions about how you want to spend your money.
So even if we don't think we need a spending plan or a "budget", we probably do have some ideas for where we want to spend our money in the future. Make plans now to take control of every day spending in order to reach our goals for the future.