Moran Iron Works expands world headquarters
Northern Michigan business continues to devote itself to community.
Moran Iron Works will be investing over $3 million in Forest Township, Cheboygan County, Mich. Moran Iron Works plans to build their world headquarters administrative office in a location near their facility already in Forest Township (Onaway). Currently employees in administrative positions are doubled up in offices as there is no new office space available. This expansion of the administrative offices will allow for the growth of the manufacturing portion of the business, as they plan to hire up to 40 employees. This project will potentially generate approximately $400,000 in new taxes over the next 12 years.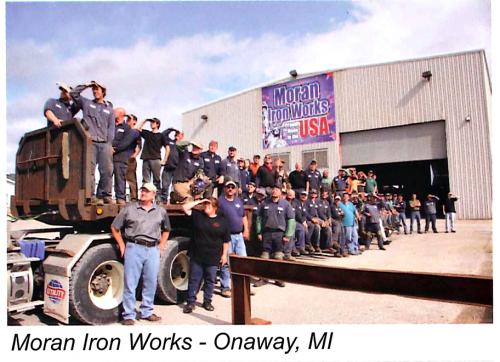 Photo: Moran Iron Works Expands World Headquarters
Moran Iron Works (MIW) is a dynamic, flexible, fabrication facility that has been designing, developing, and installing custom metal work projects for over 30 years. Since their beginning they have grown to a robust company of over 100 employees. They excel at projects where precision and quality is as important as timely delivery. MIW opened the first of their manufacturing facilities in Onaway, quickly expanding that location and branching out into the Cheboygan area and Rogers City.
Moran Iron Works regularly works with the Northern Lakes Economic Alliance, a partner of Michigan State University, to grow their business in northern Michigan. They are dedicated to Michigan and improving the state's economy. They were recently recognized with a Project of the Year award at the NLEA Annual Luncheon for their contribution to local investments, job creation, and tax revenue sources. They also made headlines by taking part in the Pure Michigan Business Connect program by signing a $19 million contract to provide clean air equipment to Consumer's Energy.
Michigan State University Extension has had a unique partnership relationship with the regional economic development organization Northern Lakes Economic Alliance (NLEA) for more than 20 years. Recognizing the strength of combining resources, this partnership focuses on economic development, entrepreneurship growth and community infrastructure throughout a four-county region in the northwest Lower Peninsula, specifically Antrim, Charlevoix, Cheboygan and Emmet counties. As a result, the NLEA utilizes resources offered through MSU Extension as it provides leadership to state-wide programs sponsored by MSU Extension.