Most Michigan counties show promising signs for increased civic engagement of young adults
The RAYSE Index provides county-specific data to help target increased civic engagement efforts aimed at 18-29-year-olds.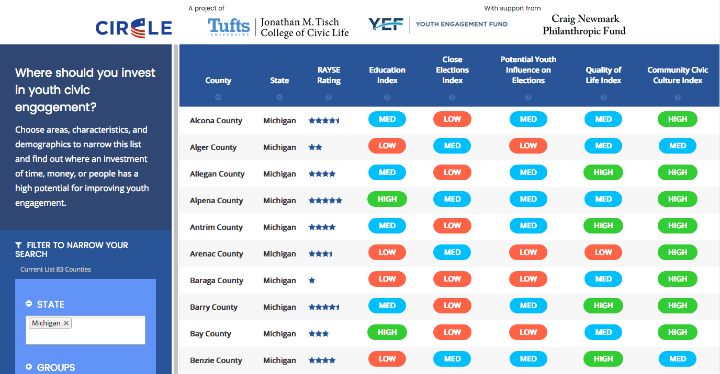 The majority of Michigan counties exhibit moderate to high levels of opportunity to increase youth civic engagement, according to newly released data. The Reaching All Youth Strengthens Engagement (RAYSE) Index, compiled by The Center for Information and Research on Civic Learning and Engagement (CIRCLE) at Tufts University, is a data tool that allows policy makers, organizations and community members to examine areas for potential growth in youth civic engagement, at the county level, in every state in the U.S.
According to the RAYSE Index, 64 of Michigan's 83 counties, or 77 percent, had a RAYSE rating of 3 stars or higher (on a 5 star scale), with just over half of the counties (43) being ranked with a high or very high rating (4 stars or greater). In terms of civic engagement, CIRCLE defines youth and young people as those between the ages of 18-29, who make up about one-fifth of eligible voters in the U.S.
With the RAYSE Index, those who wish to increase levels of youth civic engagement in local communities have a valuable new tool to help target their efforts and resources towards areas with high potential for return on investment and effort.
According to CIRCLE, the RAYSE Index is a "tool and framework for thinking about civic health and a way to start conversations about the strengths and assets of a community for civic engagement."
The index, which is accessible at no cost via CIRCLE's website, "allows organizations to access research insights that point to where, and in what ways, specific communities can increase opportunities for youth civic engagement."
The index provides an assessment of the potential to support increased youth civic engagement in each county based on five factors: quality of life, educational quality, community civic culture, potential youth influence on elections, and historically close elections. The five factors are ranked as low, moderate or high in terms of their "potential to support an increase in youth civic engagement."
Each of these factors is based on data or research findings that correlate with levels of youth civic engagement. For instance, the educational quality domain "describes the extent to which the community provides strong basic education and develops/attracts young people with college degrees."
The educational quality assessment for each county in the index is based on data from the U.S. Census American Community Survey. The RAYSE index also provides an estimate of each county's overall potential for increased youth civic engagement, in a 5 star rating format, based on the combined assessment of the five individual factors.
Organizations and policy makers could use the data to target increased civic engagement efforts in counties with low RAYSE ratings by addressing specific factors such as educational quality or quality of life issues. Alternatively, they could look for assets in these counties that could be capitalized on in order to increase youth civic engagement, such as the presence of high levels of community civic culture.
In addition to county specific ratings, the RAYSE Index allows users to filter counties based on a variety of demographic factors, such as high levels of childhood poverty, electoral history, college enrollment and population size.
To learn more about the RAYSE Index, visit the CIRCLE website or download CIRCLE's detailed report on the sources of data and methodology that was used to build the RAYSE Index.
Michigan State University Extension educators are working to increase opportunities with youth civic engagement in Michigan. Contact me at wibby@msu.edu to learn more about this work.
To learn about the positive impact of Michigan 4-H youth leadership, citizenship and service and global and cultural education programs, read our 2016 Impact Report: "Developing Civically Engaged Leaders."
Additional impact reports, highlighting even more ways MSU Extension and Michigan 4-H have positively impacted individuals and communities in 2016, can be downloaded from the MSU Extension website.
---