Moving mountains: MSU Extension instructor changes families and communities through good food
Community nutrition instructor Kendra Gibson explains why dignity at food pantries matters, why she loves MSU Extension, and how we can all make an impact, one garden at a time.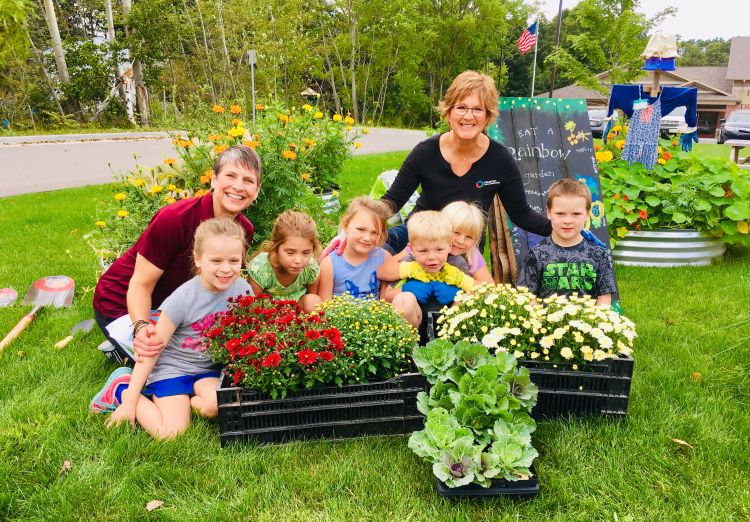 As she approaches six years as a community nutrition instructor for Michigan State University Extension, Kendra Gibson has helped her fair share of children and families incorporate healthy habits into their lives and learn to love fruits and vegetables.
But it never gets old, because there's always an impact to be made.
"If you have the heart and passion for something, you really can move mountains," said Gibson, who works in Mason and Lake Counties.
A registered dietitian, Gibson fell in love with the Cooperative Extension System years ago, during her studies in Florida.
"Extension was my favorite rotation in my internship," she said. "I ended up working in public health for many years, and I loved clinical work, but I also missed being out in the community. So when the opportunity at MSU Extension came about, I thought, 'I'm going to snatch this and finish my career in that direction.' And I just love it."
Gibson spoke to MSU Extension about some of her recent work, which includes everything from community gardening to partnering with her local food pantry to improve their service model.
How does it feel to know that kids are learning healthy habits and exploring healthy foods because of your work?
We have a quote that we use a lot: "Children who grow what they eat will often eat what they grow." It is just amazing to see the lightbulb come on for students and drop their reservations about eating when they've been engaged from the beginning. So many fun things are happening in a gardening classroom experience, so those kids are running to get to class. They're anxious to find out what's happened in the garden when they've been gone.
We ask them to be courageous and try new things, but after the third class or so, we don't even have to ask them anymore. They'll ask for more spinach, or to cut up the zucchini and put it on a pizza or whatever we're cooking. Sometimes, when their parents stay for the class, they're amazed to see their kids eating vegetables. The kids encourage each other, too. It's just really awesome.

Partnerships have been really important to your work with MSU Extension. Can you talk about the work you've done with Bread of Life food pantry?
One of the pieces of our Voices for Food grant was to work side-by-side with a food pantry to create an opportunity for them to adopt a My Choice model. Food banks using My Choice allow food pantry users to choose their own food, instead of issuing a pre-packed box or bag of food. When I first started, the pantry was resistant. They questioned why they needed to do it because they felt like what they were doing was already working really well.
MSU Extension developed a really strong relationship with them over the years, and we took field trips to other facilities using My Choice and started to work with them to understand the process. The lightbulb went on when they saw that some of the pantries were smaller than they were, yet they were offering choices and more fresh produce. When they said they thought they could do it, we got to work.
What are some of the benefits of a My Choice food pantry?
We all have our own opinion about food and our own experiences with food. During the transition to a My Choice pantry, you have to face any biases you may have about how people should spend their money or the choices they make. If someone walks into the pantry with a donut, what is our self-talk about that? We have donuts sometimes and give ourselves flexibility in what we eat. We have to learn how to have compassion about that. Navigating those issues really drew our group together.
From our interviews and research and interactions with families, My Choice allows people to have dignity and a voice. They feel cared for. No matter what their economic status, their food is still personal to them. They know what they need for their families. It's about nutrition, but it's also about dignity and respect for where people are at.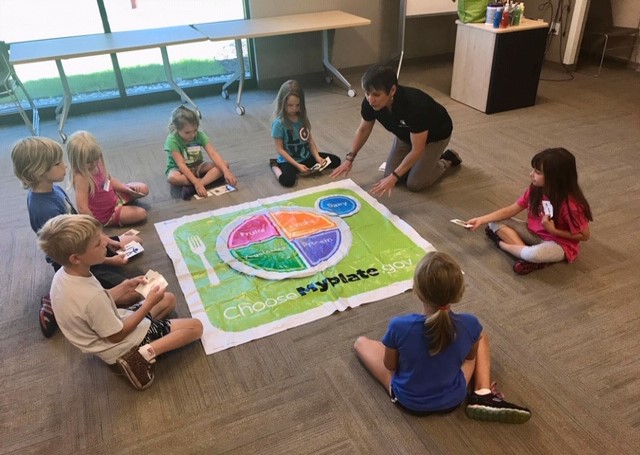 Can you tell us about the gardens you've worked in at the Lakeshore Food Club in Ludington?
For the first year I was involved, which was 2018, Lakeshore had gotten a grant from the Margaret Shaw Memorial Fund. They asked how MSU Extension could do programming with it, so we looked at creating garden beds. We've embedded MSU Extension's Grow It, Try It, Like It curriculum in there as well. And it's just grown from there. Each year, we've added something.
They've just submitted a small grant to KidsGardening.org for supplies—soil, gloves, fertilizer. After that, they'll be submitting a grant to the Mason County Community Foundation for the structure of the additional beds they want to put in. Now we're looking at an outdoor education space, so we're working with their architect to see how that could complement the building and come to life. It's been so exciting to see the work develop.
How important is it to show children and their families that it's possible to grow their own food?
It's very important. And I think it's an assumption with gardening that everyone knows how to garden. Starting with young children and their parents, it's not as intimidating. They can learn as we go along. We had a garden in a Lake County nursing home and the staff were afraid to pick things — they didn't know if they could or when things were ripe.
You can't just assume people know how to do something. It's best when we can all learn together.