MSU develops guide for researchers working with tribal communities
The Reciprocal Research Guidebook provides a framework for establishing sustainable and equitable partnerships between faculty and Indigenous Nations.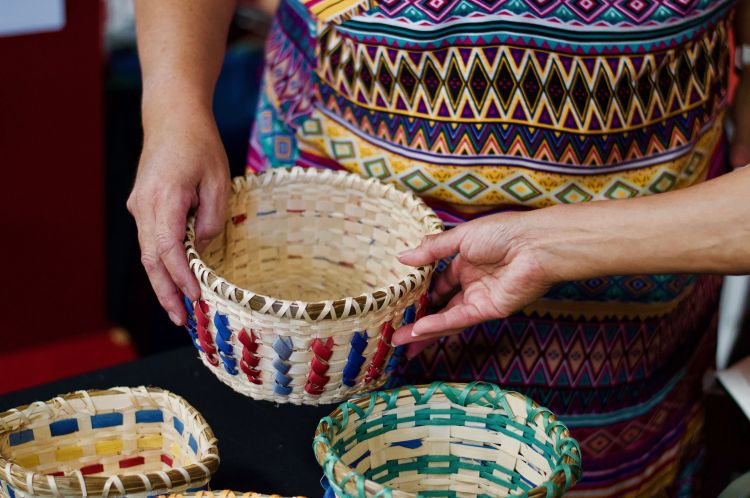 Michigan State University (MSU) partners, including the Native American Institute (NAI), have released a new resource titled Reciprocal Research: A Guidebook to Centering Community in Partnerships with Indigenous Nations. It offers university faculty and academic staff at MSU and beyond a framework for planning and reflecting on research partnerships. It can be used individually, in a community of scholars or within a graduate-level course.
The Reciprocal Research Guidebook helps university faculty and staff plan their work and motivations with intentionality and thoughtfulness before starting a research project within a Native community. It provides a cross section of potential scenarios and thought-provoking activities to support researchers in developing robust partnerships.
"Partnering with Native communities is a specialty area. You develop knowledge over years. It is a continuous learning experience. If you want to do this type of work, you have to put the work in," said Christie Poitra, Ph.D., interim director of the MSU NAI, affiliate faculty member in the American Indian & Indigenous Studies Program and core faculty member in the Center for Gender in Global Context.
"I wanted a resource that people could engage in low-risk learning activities and critically examine some of these questions and positionalities before they are in front of a community. We tried to make it user friendly for people from different academic backgrounds."
The Reciprocal Research Guidebook encourages people to think about bringing their whole selves into their work. It complements the Honoring the Whole Student Workbook that NAI also developed for faculty in partnership with MSU, supporting the broader identities of students in STEM disciplines.
The Reciprocal Research Guidebook was made possible through a nearly $1 million National Science Foundation grant, related to renewable energy and perceptions in rural and tribal communities.
"Without advance planning, communication and a commitment to the needs of tribal communities, researchers risk entering into partnerships with differing goals or conflicting expectations. This can lead to frustration and concern, placing unnecessary burdens on community members and resources," said Angela Kolonich, Ph.D., director of Professional Learning: NextGen PBL Initiative, from the MSU CREATE for STEM Institute. Additionally, Kolonich is an affiliate faculty member of the American Indian and Indigenous Studies program at MSU.
"We hope researchers can use this guide to support the establishment of strong, sustained and mutually beneficial research partnerships with tribal communities."
Even basic research that collaborators can do, like a web search or reading a book, can make a difference before entering partnerships with Indigenous communities.
"One of the most common challenges I've encountered is that Indigenous individuals have to explain the history, culture, etiquette of their community and structure of their tribal governments repeatedly, with each and every new collaborator," said A. Ellie Mitchell, tribal liaison with NAI. "Many potential collaborators come in expecting individuals to do that labor for them. I hope this guide will encourage people to prepare themselves more before initiating projects. Doing so serves all partners on a collaboration."
Mitchell is also an academic specialist in the MSU College of Arts and Letters where she supports community outreach for the Less Commonly Taught and Indigenous Languages Partnership, funded by the Andrew W. Mellon Foundation.
Emily Proctor, an MSU Extension Tribal Extension Educator in the Community, Food and Environment Institute, explained that academic institutions and researchers can come into projects with a lack of understanding in terms of tribal law and jurisdictional considerations for engaging in research with tribal nations and tribal colleges. Proctor is also project manager of the Michigan Inter-Tribal Land-Grant Extension System that serves tribal nations and tribal communities in the state.
"This guide provides suggestions to slow down the process to give the chance for an authentic, honest and well thought out relationship to start rather than jumping in and forcing the effort to go the researcher's way," Proctor said. "This guide also provides an opportunity for the person to take a deeper look at themselves to begin to address biases they may carry with them into a tribal nation, tribal community or tribal college."
Likewise, the authors say it's important to think about partnerships with Native communities as not just part of a single project, but relationships built over time through different types of work.
"That develops continuity for the actual work because thematically, you are exploring different veins of needs and goals within the community," Poitra said. "These communities are not monolithic. There is a lot of perspectives on the work and there are a lot of different stakeholders, boards and different forms of leadership that weigh in. Having a broad and dynamic relationship with the community is critically important."
Tribal communities can find that their voices don't get heard in meaningful ways when working with academic institutions and researchers. There's also a concern about how the data and information will be used and disseminated. This type of sustainable relationship building with communities also respects Indigenous knowledge and existing work, including research that is already occurring.
"It is important to respect and acknowledge that an academic from a university setting might not be the expert, which is a shift in how we frame research," Poitra said. "It's important to take the time to listen to the communities' perspectives as experts of their own context, needs and goals."
Authors on the Reciprocal Research Guidebook include faculty, academic specialists and graduate students from across MSU.
"All the authors are untenured Natives and women of varying backgrounds. I believe it is important to value a spectrum of voices in developing scholarship, and that innovative scholarship does not just come from tenured faculty," Poitra said.
In addition to Poitra, Kolonich, Mitchell and Proctor, authors are:
The Reciprocal Research Guidebook, available online and as a PDF download, can also be helpful to researchers outside of MSU and as part of broader land-grant discussions and historical contexts.
"My broader goal with the guide is having more thoughtful community-centered work coming out of universities," said Poitra. "This is also tied to some of the broader land-grant conversations we've been having at MSU and thinking about the institution's responsibility to tribes that forcibly ceded land and resources to fund these university spaces."
This article was published in In the Field, a yearly magazine produced by the College of Agriculture and Natural Resources at Michigan State University. To view past issues of In the Field, visit www.canr.msu.edu/inthefield. For more information, email Holly Whetstone, editor, at whetst11@msu.edu or call 517-355-0123.