MSU Extension and tribal partners highlight Indigenous foods through Cooking Matters program
To include more traditional Indigenous foods in Cooking Matters recipes, MSU Extension nutrition educators worked with staff from Bay Mills, Hannahville, Pokagon and Little Traverse Bay tribes.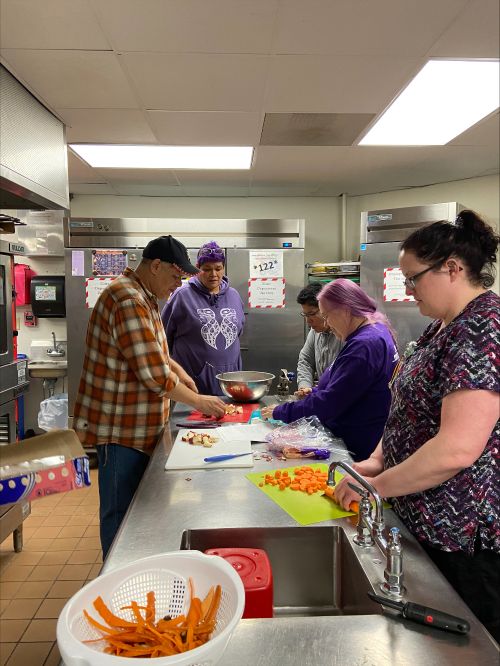 What do wild rice, maple syrup and squash have in common?
These foods are traditionally eaten by many Indigenous people in Michigan known as the Anishinaabeg. The ingredients also featured in recipes cooked up through a partnership between MSU Extension, the Inter-Tribal Council of Michigan and four of Michigan's federally recognized tribes (Bay Mills Indian Community, Hannahville Indian Community, Little Traverse Bay Bands of Odawa Indians and Pokagon Band of Potawatomi). This program is one way in which Michigan State University Extension's nutrition and physical activity staff adapt programming to support Michigan tribal nations and communities.
Michigan is situated in the ancestral and present homelands of the Anishinaabeg, also called the Three Fires Confederacy of Ojibwe, Odawa and Potawatomi peoples. The state's 12 federally recognized tribes are sovereign nations. Each has its own history, customs, governance system and food traditions.
Until recently, Anishinaabe ways of eating healthy and staying physically active have not been well represented in Supplemental Nutrition Assistance Program health education programming (SNAP-Ed). Most of the curricula approved for use in the federally funded SNAP-Ed program was not developed with Anishinaabe food preferences and traditions in mind. For example, the SNAP-Ed Toolkit offers educators a collection of 146 different evidence-based programs that could be used to help communities eat healthy and stay active. But only four indicate they were developed specifically with or for Indigenous audiences, let alone Anishinaabe communities.
To help fill this gap, MSU Extension educators worked with tribal health staff to adapt and implement four Share Our Strength Cooking Matters® programs in fall 2022. The Cooking Matters® suite of programs includes weekly sessions of hands-on nutrition and cooking education. Throughout the course, participants learn about food safety, meal planning and budgeting, healthy snacking, cooking methods and more. After each session, participants receive a bag of groceries to take home and prepare.
Along with implementing the standard curriculum provided in Cooking Matters®, MSU Extension and educators from the four tribal health departments adapted recipes to include more Indigenous foods. Participants were also encouraged to share their own family food traditions and recipes, whether considered Indigenous or not.
As a result, each tribal site adapted recipes in different ways.
At the Little Traverse Bay Bands of Odawa Indians site, MSU Extension community nutrition instructor Jane Sherry and participants made seasonal recipes such as butternut squash, wild rice, and Three Sisters Soup, which has beans, squash and corn. At the Pokagon Band site, participants tried swapping chicken for bison in a sweet potato shepherd's pie. In Bay Mills, maple syrup was substituted for sugar alongside dishes made with seasonal berries and produce from the tribe's farmers market. In Hannahville, the instructors and participants tried recipes that already included locally grown foods like squash and made dishes that would be easy for Elders to make with their grandchildren.
Overall, the program reached 30 adults and their families across the four communities. Throughout the class, participants talked about feeling more confident in the kitchen and expressed wanting to try cooking at home more often.
"I think [participants] will be more apt to grab a squash at the store and cook a meal at home and have the confidence to make something that everyone's going to like in their family," said one tribal partner.
Whether trying Indigenous foods for the first time or learning about a fellow participant's family tradition, community members appreciated the opportunity to learn new recipes.
When talking about a chili recipe that used turkey instead of beef, one community participant said, "I really liked that it was outside of what I was used to and a new way of doing it."
Other participants also shared that they enjoyed the community building aspect of the classes and wanted to continue meeting on their own.
"This series was about so much more than improving healthy eating and increasing physical activity," Sherry said. "It was also an opportunity for participants to gather and build community, to make connections and encourage each other to try new things."
The program strengthened relationships between MSU Extension and tribal health educators across the state. MSU Extension provided planning and facilitation of the lessons. Tribal health staff provided adapted recipes, recruited participants and provided a space to host each series. The Inter-Tribal Council of Michigan provided funding for take-home groceries and evaluation through a Walmart Healthy Native Foods grant.
This was just one effort to make MSU Extension's programs more inclusive of Michigan's Indigenous communities. To learn more, go to MSU Extension's Tribal Education website.