MSU Extension Clare County: Proven education delivered locally to solve problems and increase opportunities
MSU Extension empowers Clare County residents to do their jobs better, raise healthy and safe families, build strong communities, protect local environments and empower young people to not just dream but to pursue successful futures.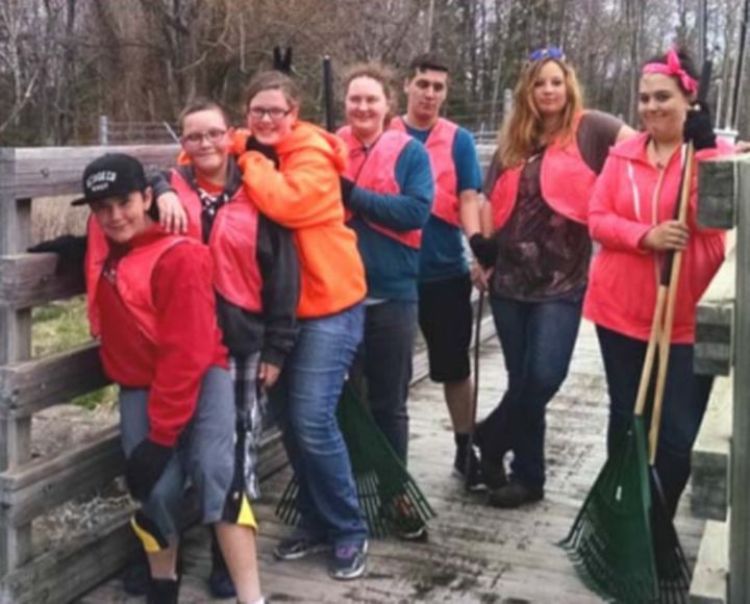 Michigan State University (MSU) Extension helps people improve their lives by educating them where they are – in their homes, schools, farms, businesses and communities. In 2019, nearly 2,300 Clare County residents sought research-proven education from MSU Extension gaining the information they
needed to do their jobs better, raise healthy and safe families, build strong communities, protect local environments and empower young people to not just dream but to pursue successful futures.
Empowering and Equipping Youth Success
Nearly 54% of Clare County 4-H seniors graduating from 2012 to 2019 enrolled in college within six months of high school graduation, exceeding by 9.7% the general rate of 44% for all Clare County seniors enrolling in college during this time.
Annually, Clare County MSU Extension 4-H programs engage 1,200 or 24% of Clare County youth aged 5 to 19 in learning opportunities that help prepare them for work, especially for jobs in science, technology, engineering and math. More than 100 community-based adult volunteers lead these learning opportunities in communities throughout the county.
In 2018, more than 540 Clare County teens in grades 7th to 12th, responded to a needs assessment survey that sought to learn the needs of youth in Clare County. Students from Clare, Farwell and Harrison schools responded to an eight-question survey. These young people shared that they were dealing with issues of depression, anxiety, need for someone to talk to, lack of parental support, and desires for more teen employment. MSU Extension now offers virtual "Youth Reflect and Connect" sessions to provide a forum for youth to work through issues of concern. 4-H also offers the Adulting 101 Series of programs designed to help youth learn the practical skills needed for life like financial readiness, household tasks and preparations for living away from home.
Building Strong Community Capacity
MSU Extension leadership development programs serve to increase an individual's knowledge and skills to provide more proficient leaders within organizations and communities.
In 2019, 19 Clare County leaders accessed MSU Extension educational offerings designed to help build community strengths. These leaders registered for trainings on Opportunity Zones to learn about funding that helps grow community investments; on developing financially viable communities and how governments can prepare for and benefit from Census 2020 and redistricting.
Educating for Greater Farm Profitability
Access to research-based information is critical when business decisions depend on it. Michigan State University Extension is a leader in helping farmers apply tested solutions for the benefit of their farms, their families and their communities. Clare County MSU Extension staff members provide both group and individualized solutions to help local farmers identify opportunities to improve finances and farm success.
With 13,800 acres planted annually in soybean, corn and oats and 9,400 head of cattle in annual agriculture production in Clare County, MSU Extension provides access to the knowledge farmers need to succeed.
MSU Extension helps Clare County dairy farmers manage the 2,900 milking cows used in local dairy production. MSU Extension educators help farmers check milking protocols to protect cow udder health and increase milking parlor efficiency, thereby reducing the economic and management stress of dairy farms. MSU Extension teams provide parlor observations and assessments to help farm owners maintain safe and effective milking protocols.
Helping Struggling Families Make Healthy Decisions
As of April 2020, nearly 22% or 6,685 Clare County residents were receiving Supplemental Nutrition Assistance Program benefits. MSU Extension helps families needing food assistance learn how to make the most of their food dollars and safely prepare meals that are both healthy and tasty.
MSU Extension staff engaged 470 Clare County residents in health and nutrition education programs to encourage families to take personal action to improve their health outcomes.
Clare County MSU Extension staff engages eligible SNAP participants in a six-week nutrition education series designed to help them make healthy food and lifestyle choices. Staff members also offer access to educational support resources to help families make the most of their monthly food resources.
Building Family Financial Viability
According to a 2019 report released by the East Michigan Council of Governments, 55% of Clare County working families are not earning enough to afford the basics, such as housing, child care, food, transportation, health care and technology.
More than 110 Clare County families built financial capability and homeownership eligibility through MSU Extension led educational programs.
MSU Extension certified housing counselors helped families navigate decisions and explore options when faced with foreclosure.
MSU Extension is eager to continue serving Clare County residents in strong partnership with the County Board of Commissioners. By working together, MSU Extension can continue to help people improve their lives by bringing the vast knowledge resources of Michigan State University directly to individuals, families, businesses and communities.