MSU football's Coach Mel Tucker gets ice cream flavor named in his honor
Coach Tucker's new MSU Dairy Store ice cream flavor makes its debut for the Spartan's home-opener of the 2021 season, available at the Anthony Hall location and the MSU Dairy Store Mobile Unit during the Meijer Fan Fest at Munn Field.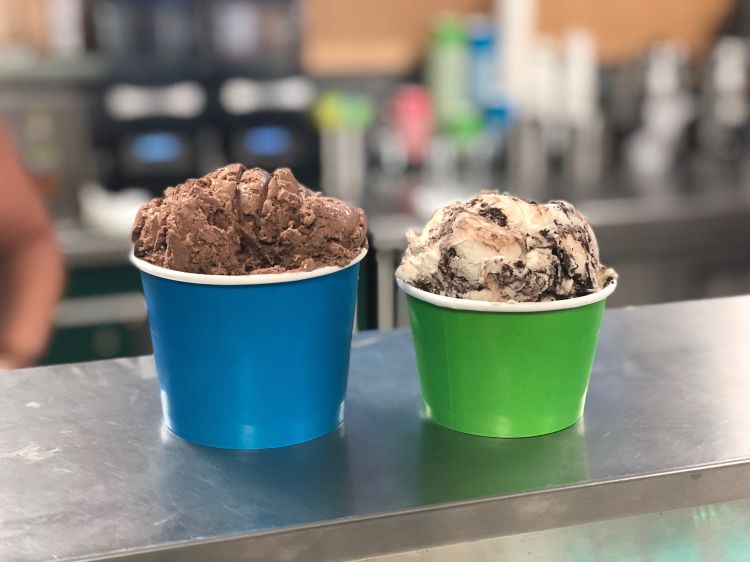 In partnership with Michigan State University's Head Football Coach Mel Tucker, the MSU Dairy Store will begin serving "Tucker's Scoop and Score," coinciding with the Spartan's 2021 season home-opener on September 11, 2021. The special edition flavor includes rich vanilla ice cream with praline pecans and caramel swirl throughout.
Coach Tucker's new flavor will be available in cups and cones at the main MSU Dairy Store location in Anthony Hall, now managed by MSU Extension's Product Center. The MSU Dairy Store's Mobile Unit will also be open for business once again, parked at Munn Field Saturday morning for the Meijer Fan Fest prior to kickoff. From 9 a.m. until noon, the Mobile Unit will offer four favorite flavors, including cookie dough, chocolate, Shaw Lane Strawberry, and Coach Tucker's Scoop and Score.
The Anthony Hall MSU Dairy Store location will have special hours for game day from 9 a.m. to 5 p.m., ensuring all campus visitors can enjoy two beloved Spartan pastimes: Big Ten football and Dairy Store ice cream. Additionally, the MSU Dairy Store has expanded its operations to offer service Wednesdays through Sundays from noon to 8 p.m.
In accordance with university-wide policies, masks continue to be required inside the MSU Dairy Store's Anthony Hall location. Without on-site seating available inside the Dairy Store at this time, visitors are encouraged to take their favorite scoops to-go.
For more information, visit canr.msu.edu/dairystore.