December 19, 2018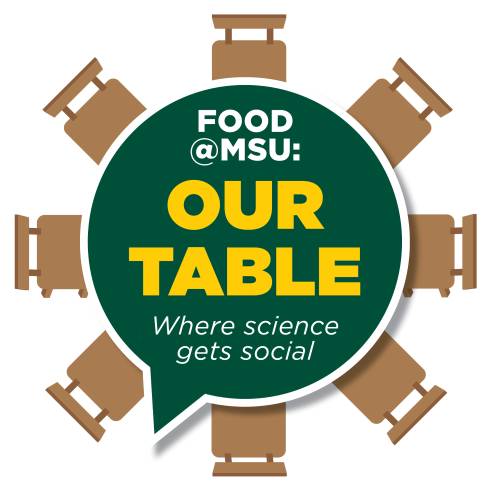 By 2050, global population is expected to exceed 9 billion. In response, some estimate that food production will need to increase by 70 percent, perhaps even double to meet growing demand.
What changes can be made to sustain such a large uptick in population? Michigan State University (MSU) researchers want to offer their perspectives — and listen to yours.
MSU AgBioResearch, a group of 340 researches from eight colleges across MSU's campus, invites scientists, researchers, community leaders and the public to an Our Table conversation on food security from 5:30 – 7 p.m. on Tuesday, Jan. 15 at the East Lansing Hannah Community Center, 819 Abbot Road. The discussion will take place in the center's first floor banquet hall.
"Creating a food secure world is not as simple as producing more food. Major sociopolitical factors affect food availability around the world," said Doug Buhler, director of MSU AgBioResearch. "Food waste continues to be a major problem, as well as lack of infrastructure and food processing and preservation capacity. We need to look at food security as a multifaceted issue that requires innovative and creative thinking from all sectors of the food system."
Our Table discussions unite food scientists, researchers and community members for engaging conversations. Split between time for panel discussion and time for the audience to join the conversation, all leave with new knowledge and an appreciation for one another's perspectives. Our Table is part of Food@MSU, an initiative that encourages those working in academia to listen to the public and provide tools steeped in science. The overall goal is to help consumers make more informed decisions about food, where it comes from, and how it impacts our health and our planet.
"These discussions continue Food@MSU's efforts to inspire meaningful conversations to help the public grasp key characteristics of the food system," said Buhler. "Scientists need to listen more as we rethink our strategies to connect with consumers."
The panelists for the Jan. 15 discussion are passionate about developing scientific solutions to help solve hunger. They are:
"Discussing the challenging issue of food security and considering possible solutions during Our Table may help bring new light to this perplexing problem," said Bates.
"Global food insecurity is already here at our doorstep. Farmers in many parts of the world are facing the specter of hunger, malnutrition and bankruptcies, biodiversity losses and climate-change inducing greenhouse gas production," said Snapp. "We need to act now, to support farmers to produce more and nutritionally dense foods, and we need to support policies that encourage environmentally sound practices and engaged education and extension."
Panelists and moderator Sheril Kirshenbaum will sit at a table crafted specifically by MSU Shadows for Our Table conversations. Made from fallen campus trees, the table features an inlay of the Spartan helmet in the middle.
Kirshenbaum, along with Buhler, coordinates the MSU Food Literacy and Engagement Poll, which measures consumer attitudes and opinions toward food topics, including security and access. Co-author of the book "Unscientific America: How Scientific Illiteracy Threatens Our Future," Kirshenbaum is passionate about cultivating a greater understanding of how science affects our lives.
"Food impacts our world, globally and personally, in complex ways," said Kirshenbaum. "To meet the challenges of limited resources on a changing planet, we must promote an inclusive conversation between scientists, policy makers and the public to achieve meaningful solutions."
The Jan. 15 Our Table conversation will be livestreamed on Food@MSU's Facebook page for those who want to listen, but are unable to make it to the event.
For questions or more information, contact Food@MSU communications manager Alex Tekip, or send an email to food@msu.edu.