MSU NAHB Team Continues Run of Success
MSU's NAHB competition team placed third in this year's event, continuing their recent run of great placements.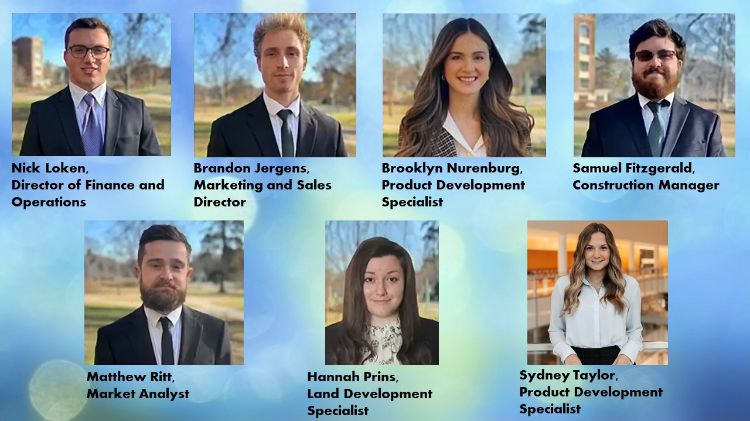 Success is becoming synonymous with Michigan State's NAHB competition team. In February, the team was awarded third place in the 2022 competition. The team has now placed 5th or higher in every competition for the past 5 years, and have taken first place two times in that time span, doing so in back-to-back years in 2018 and 2019.
This year's team included 7 students, who all performed a specific role for the team:
Nick Loken, Director of Finance and Operations

Brandon Jergens, Marketing and Sales Director

Samuel Fitzgerald, Construction Manager

Brooklyn Nurenburg, Product Development Specialist

Matthew Ritt, Market Analyst

Hannah Prins, Lead Development Specialist

Sydney Taylor, Product Development Specialist
The team was lead coached by Dr. George Berghorn, an MSU SPDC faculty member, and he has helped to lead the team to their great run of success. The competition team's great run wouldn't be possible without contributions from students across multiple programs within SPDC.
"I love so many things about this competition, among them the camaraderie among students from programs across SPDC. This year we had Landscape Architecture and Interior Design, in addition to Construction Management," said George Berghorn.
While all members of the team were vital for this year's high placement in the competition, Hannah Prins was especially notable for her contributions, being recognized by both judges and fellow student competitors.
"Hannah Prins was the talk of the competition," said George Berghorn.
"Far better than judges' accolades, Hannah couldn't walk around the IBS show for more than an hour at a time without students from other teams mobbing her to ask "how did you do it" regarding her beautiful renderings and the amazing fly through video at the end of the presentation."
This team is no stranger to receiving accolades for their outstanding performances. Since 1994, this team has won the competition four times, and they've finished on the podium (5th place or higher) 12 times. With intelligent and hard-working students on the team year after year, and a dedicated coach in Dr. Berghorn, this team can expect to see similar great result in this competition in the coming years.
You can view the 2022 team's written proposal and the video of their full presentation on the NAHB website.