MSU Youth Program Seeks Future Wildlife Biologists
The MSU Extension Delta Wild 4-H program is looking for area youth aged 9 to 19 interested in wildlife and biology in the greater Lansing area.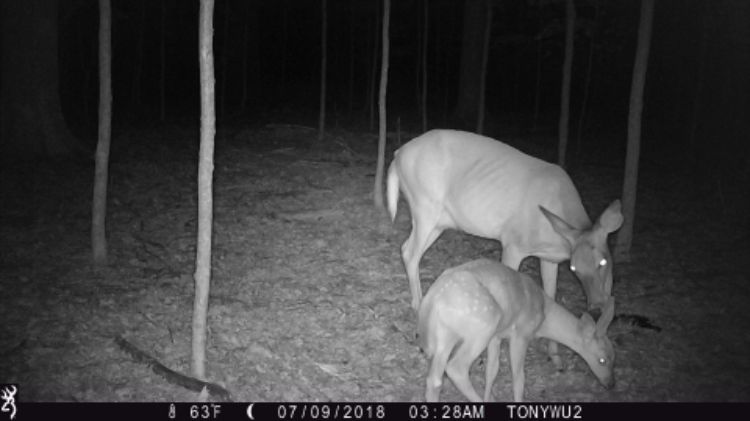 This article was originally published by East Lansing Info.
The MSU Extension Delta Wild 4-H program is looking for area youth aged 9 to 19 interested in wildlife and biology in the greater Lansing area.
This short course running from September to December gives youth hands-on experience tracking wild animals in the area using motion sensor cameras. In its pilot season this summer, the program discovered deer, fox, coyote, skunks, and more, in parks in Delta Township.
Students will also spend time observing wildlife in parks, tracking animals via footprints and taking field trips to local attractions. One of the field trips will be to the Capital Area Bird Sanctuary where they will learn about bird identification and urban bird habitat. The course meets biweekly on Wednesdays at the Delta Township Library.
"The goal of this program is to encourage kids to get outdoors, have them recognize wildlife in their own backyards and to cultivate a sense of responsibility for our local environment," said program coordinator Dr. Joanne Crawford, a research associate in the Boone and Crockett Quantitative Wildlife Center at Michigan State University. "Inspiration for our activities is guided by student interest in wildlife topics. We believe strongly in youth-driven engagement with science". Activities are designed to lead kids through a science mystery, from presentation of the problem to evaluating the strength of various hypotheses of an issue.
Students in the program will "learn by doing," and work alongside Dr. Crawford and MSU Department of Fisheries and Wildlife graduate students to design a research project to determine the types of wildlife that utilize parks in Delta Township. In small groups they will develop research questions, decide where and how many cameras to place, and collect and review their findings. While the data collected is not currently used outside of the program, Dr. Crawford's hope is to set up a broader wildlife monitoring program in the Lansing region and connect with other cities that do urban wildlife monitoring.
Wildlife viewing cameras are used worldwide to address a variety of research and management objectives for many wildlife species. They are an effective tool for investigating wildlife behavior, and documenting species presence and distribution. Wildlife cameras are also an efficient and cost-effective way to supplement or replace human observers.
Remote wildlife viewing camera systems are deployed in a number of ways. Cameras can be set up along game trails or at other points of congregation. Still or video cameras can be programmed to activate when the infrared motion detector is triggered. For cameras observing wildlife at a distance, which precludes the triggering of a motion detector, images are recorded on a regular programmed basis providing a time series (e.g., from every minute to every 24 hours).
The Delta Wild program is part of 4-H, the largest youth development organization in Michigan. 4-H provides educational opportunities that empower young people on a wide variety of topics including science, technology, creative arts, entrepreneurship and farm animals. Courses are based on child and youth development research and taught by local experts and MSU Extension educators.
The cost to join 4-H and to participate in the Delta Wild program is $20, and students from other areas (including East Lansing) are encouraged to participate. Scholarships are available. The program runs from 4:30 to 6:00 pm bi-weekly on Wednesdays at the Delta Township Library. Four field trips will take place from 10:00 to Noon on various Saturdays throughout the program. To learn more and enroll, contact the Eaton County MSU Extension office via email at msue.eaton@county.msu.edu or by calling 517-543-2310.