MSU Agriculture Innovation Day: Focus on Soils brings experts to Frankenmuth on Aug. 24
Cutting-edge information on topics important to Agriculture's future.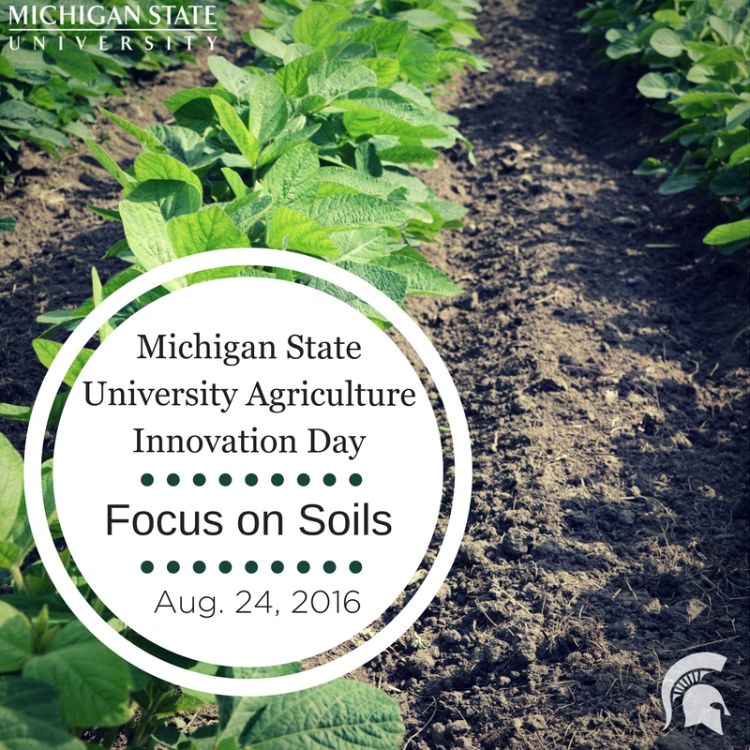 Michigan State University will host the first MSU Agriculture Innovation Day: Focus on Soils, Aug. 24 at the Saginaw Valley Research and Extension Center in Frankenmuth, Michigan. The event features experts from MSU and across the Midwest who will deliver innovative information to help producers take the next step in improving their bottom line while maintaining environmentally sound practices on their farms.
"Agriculture Innovation Day is a way for us to meet people close to where they live, to showcase some of the best we have in terms of research and to extend an opportunity to engage with us to all ages," said CANR Dean Ron Hendrick.
Soils are an essential resource for agricultural production. Understanding the dynamics of soil, water and biology give greater insight into successful management of soils. Management to optimize production year-after-year, management to keep soils healthy and productive for the next generation and management to minimize risk of losing soil and nutrients from the fields are all essential to soil health.
Producers who spend the day at the Saginaw Valley Research and Extension Center will see the below-ground impact of compaction and learn about the latest technology and management to eliminate yield-robbing compaction. Visitors will get a first-hand look at cover crops and the difference they can make in soil structure and learn about ways to manage tile and cropping systems to keep nutrients in the field and out of surface waters.
Farmers have an opportunity to hear from experts from MSU and across the Midwest on all aspects of soil in nine sessions:
Reducing Compaction (and increasing profits) with the Right Tires, Air Pressure and Weight Distribution – Mike Pantaleo, Michelin Engineering Expert
Get Water and Nutrients Where you Want with Drainage Management – Dr. Larry Brown, The Ohio State University
Making the Most of Your Nitrogen Dollar – Dr. Peter Scharf, University of Missouri
Successful Cover Crops – From Seed Selection to Planting Techniques, Erin Hill, academic specialist, MSU Department of Plant, Soil and Microbial Sciences
Make your Soils Smoke and Load Your Tool Box for Optimum Soil Health, Frank Gibbs, certified soil scientist
Save Money and Protect Your Watershed with Wise Phosphorus Decisions, Kurt Steinke, assistant professor of soil fertility and nutrient management at MSU.
Digging into the Science of Soil Compaction: How to Prevent, Detect and Alleviate Soil Compaction, Francisco Arriaga, assistant professor University of Wisconsin Madison, Department of Soil Science
How do your soils handle rain? Understand the impact of rainfall on various tillage and cropping systems, Paul Gross, MSU Extension Educator and Jim Marshall, Soil Scientist, NRCS
Healthy Soil – Dig a Little, Learn a Lot, Dean Baas, MSU Extension sustainable agriculture educator and Lisa Tiemann, assistant professor researching soil biology and ecology at MSU
These hands-on sessions promise to be a practical and exciting way to get the latest information on soils.
Farmers of all ages are encouraged to attend. We will have representatives from Michigan State University on had to talk to potential students about the Ag Tech program as well as bachelor's degrees.
Michigan State University Extension is proud to offer 5 RUP credits for 1A or Comm. Core or Private Core and 2 Nutrient Management CEU's and 6 Soil and Water Management CEU's for Certified Crop Advisors.
Join us Aug. 24 at the Saginaw Valley Research and Extension Center in Frankenmuth, Michigan. On-site registration begins at 8:00 a.m., the program runs from 8:45 a.m. to 5:00 p.m. To learn more about the event and the sessions being offered, visit MSU Agriculture Innovation Day: Focus on Soils at msue.msu.edu/msuaginnovationday.