MSU Horse Judging program is going strong!
Learn more about how MSU Horse Judging teams have been a staple of the MSU Horse Program for decades.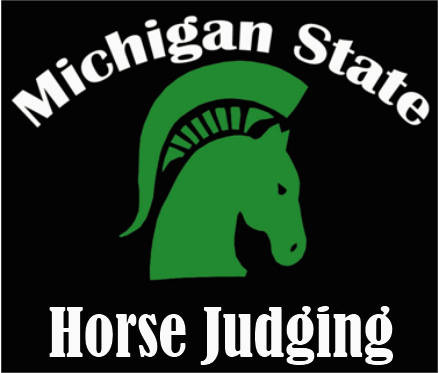 The Michigan State University Horse Judging program has been a staple of MSU's Animal Science department for many years and 2012 was no exception. The 2012 team of nine students, coached by MSU Visiting Instructor Taylor Fabus, just finished out a strong competition season. One of the nine members is Kerri Rozeboom, a graduate of Kent County's 4-H Horse Judging Team, coached by long time Michigan State University Extension 4-H leader, Tim Vandenhoek. Vandenhoek recently retired as coach and passed the torch to Rozeboom and her sister.
The MSU Horse Judging team is the only collegiate horse judging team in the state of Michigan. This fantastic student experience allows team members to gain communication skills, confidence, networking, equine knowledge and so much more by traveling to and competing in Intercollegiate Horse Judging Contests.
Also see: How to start a 4-H horse judging team
We asked several current and past MSU team members about their experience on the team, and they replied:
Current MSU student and member of the 2011 team Elizabeth Starr Ries said that she is now "comfortable speaking in front of people, anywhere anytime! I have more confidence and met a ton of great people."
MSU Faculty member and coordinator of the MSU Horse Management Program Camie Heleski said that the team, "Pretty much changed my entire life. I took horse judging the spring of my freshman year. That led to finding out about horse farm internships and being on the judging team. Those two things led to changing my major and having Dr. John Shelle and Mike Yoder as my awesome coaches. Wouldn't change any of it for the world!"
Former team member, Tena Ursini shared with us that, "I learned how to look at a horse as a whole but also be able to pull apart the pieces conformation wise as well as movement. Very helpful in developing an eye for lameness since I will be graduating with a doctorate of veterinary medicine in May."
These are just a few of the stories that were shared highlighting the lifelong impact the MSU Horse Judging team had on its members.
Each fall the team competes at the All-American Quarter Horse Congress in Columbus, Ohio as well as the U.S. National Arabian and Half-Arabian Championship Horse Show in Tulsa, Okla. As you can imagine, preparing for and traveling to national judging competitions requires a great deal of financial support. The coach and team members work hard throughout the year to build funds. Funds are raised through Animal Science departmental support and via sponsorships from organizations such as the Michigan Horse Council, Arabian Horse Association of Michigan, MSU Horseman's Association and MSU Friends of the MSU Horse Teaching and Research Center, to name a few.
The team will also be organizing its second Hoofin' it for Horses 5K Run/Walk at the MSU Horse Teaching and Research Center. This event, which is the team's biggest fundraiser, will be held on April 7, 2013 and is open to the public!
Interested in starting a 4-H horse judging team? Check out this useful article, "Starting a horse judging team." Also be sure to "like" the new Michigan 4-H Horse & Pony Project Leaders Facebook page for up-to-date information on state-level horse programs and events!