MSU Plant Trial Field Day on August 2, 2016
Growers, retailers and landscapers of ornamental plants are invited to this annual event Aug. 2, 2016, to learn about new plants and how they perform in gardens.
Greenhouse and nursery growers, landscapers and garden center operators are invited to Michigan State University to participate in the annual MSU Plant Trial Field Day starting at 8:30 a.m. on Tuesday, Aug. 2, 2016. This event is the best opportunity to visit the MSU Trial Gardens to learn about and evaluate a wide range of annuals, herbaceous perennials, vegetables, herbs and native plants.
In addition to walking through the trial gardens, the following presentations will be delivered by MSU faculty and staff:
Plant purchases from the eye of the beholder by Bridget Behe
20 great shrubs you can't live without! by Tom Fernandez
Breeding breakthroughs in annuals over the years by Daedre McGrath
The best of the best new plant introductions from the 2016 MSU plant trials by Daedre McGrath
Great herbaceous perennials – New trends and old friends by Art Cameron and Bethany Troy
After lunch, participate in one of the walking tours with the garden managers or director. For more information and to register, please visit MSU Plant Trial Field Day. Early, discounted registration ends July 28.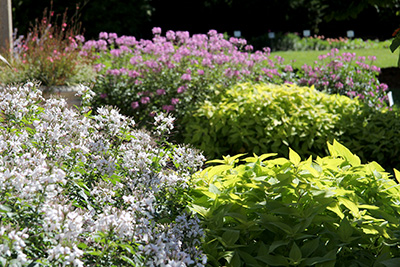 MSU's Plant Trial Field Day is held during the annual Michigan Garden Plant Tour, which in 2016 runs from July 25 to Aug. 5. During this coordinated open house, you can visit four leading producers of herbaceous young plants in Michigan, plus the MSU Trial Gardens, to observe plant performance in ground beds and containers. You'll see impressive displays of flowering material grown under different environmental and cultural conditions.
In addition to the MSU Trial Gardens, the participating companies are C. Raker and Sons, Four Star Greenhouse, Mast Young Plants and Walters Gardens. Visit the Michigan Garden Plant Tour website to learn about highlights and special events at each location, and check out the Michigan Garden Plant Tour Facebook site for recent photos and news about the tour.