MSU research center in Lake City to host agricultural field day
The MSU AgBioResearch center in Lake City is hosting an educational field day Saturday (Aug. 9) from 9 a.m. to 3 p.m.
August 7, 2014 - Author: Jerry Lindquist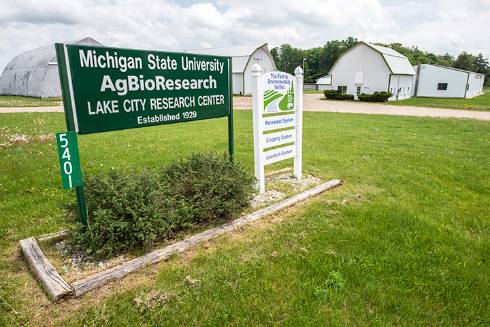 EAST LANSING, Mich. – The Michigan State University (MSU) AgBioResearch center in Lake City is hosting an educational field day Saturday (Aug. 9) from 9 a.m. to 3 p.m. Visitors will have the opportunity to hear leading MSU scientists and industry leaders talk about the latest research in beef cattle grazing, grass-finished beef production and forage crops.
Speakers will include Paul Gross, MSU Extension cover crop educator, demonstrating the impact of cropping systems on rainwater infiltration; Kim Cassida, MSU forage specialist, showcasing the MSU alfalfa and grass forage varieties trials; and Jerry Lindquist, MSU Extension grazing educator, speaking on the cost of pasture renovation and nitrogen use efficiency on pasture. In addition, Jason Rowntree, MSU beef specialist, and Kable Thurlow, MSU beef educator, will discuss grass-finished beef cattle production. Cassida, Lindquist and Rowntree will discuss annual forage crops for extending the fall grazing season.
During lunch, leaders from the grass-fed beef industry will talk about the increasing number of grass-fed beef markets in the United States. The presentations will include two of the largest grass-fed beef retailers in the Midwest: Todd Churchill, CEO and president of Thousand Hills Cattle Co. of Cannon Falls, Minnesota; and Blaine Hitzfield of Seven Sons Family Farms and Co. of Roanoke, Indiana. Local meat retailer Mark Ebels, of Ebels General Store of Falmouth, will also be in attendance.
The field day is free and open to the farming community as well as the general public. Lunch will be available for $10 and free for kids 12 and under. The center is located at 5401 W. Jennings Road, Lake City, MI 49651. To RSVP or for more specific details on the event, contact farm manager Doug Carmichael at carmic16@anr.msu.edu or (231) 839-4608.
MSU AgBioResearch engages in innovative, leading-edge research that combines scientific expertise with practical experience to generate economic prosperity, sustain natural resources and enhance the quality of life in Michigan, the nation and the world. It encompasses the work of more than 300 scientists in seven MSU colleges - Agriculture and Natural Resources, Arts and Letters, Communication Arts and Sciences, Engineering, Natural Science, Social Science and Veterinary Medicine - and has a network of 13 research centers across the state.