Music in early childhood has a direct link to reading readiness
Explore the link between music activities for preschoolers and emerging skills in reading and writing.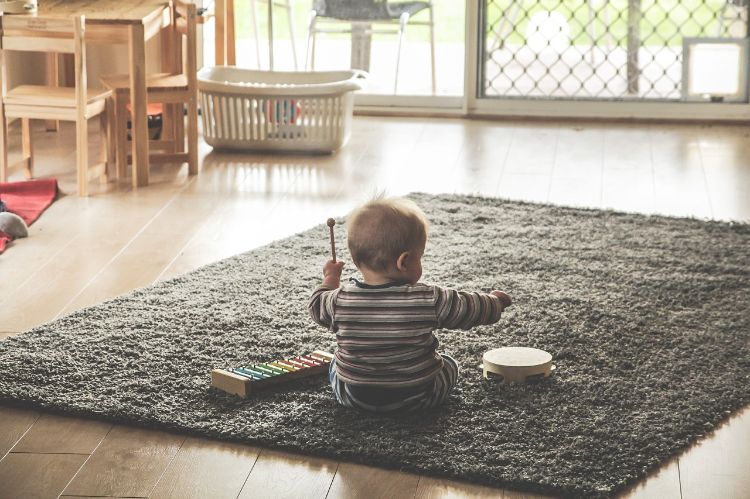 Babies and young children generally love music and movement. Music is a social experience; a way of giving and receiving love and affection. Adults rock babies and sing lullabies. Caregivers across the globe sing songs to teach ABCs, numbers, colors and feelings (If you're happy and you know it; clap your hands). Most parents know that soft music can soothe a fussy baby. Banging on pots and pans with a wooden spoon can occupy a toddler for a significant portion of a morning. Playing "Ring around the Rosie" with siblings and friends can entertain and amuse most preschoolers.
Music is fun and entertaining, Michigan State University Extension says that recent research shows that there is more to music than a playing a fun little tune. Research from the University at Buffalo Graduate School of Education showed a link between the music activities of preschoolers and the early development of writing and reading skills. The study looked at preschoolers and teachers who had special training and significant music skills, but parents should be encouraged by the findings from the research, that children who receive daily music activities are assisted in building life-long literacy skills.
Becoming a successful reader and having competence in writing both require that a child have a solid foundation in oral language. Music can and does provide a piece of that foundation in a natural way that can be lots of fun. A parent who uses music during playtime with a young child can experiment with rhyme and rhythm. Using rhythmic patterns can increase a child's awareness of patterns. Children who experiment with songs in interaction with adults can learn about beginning sounds and rhyming as in the song, The Name Game. Listening and memory skills acquired through play with music are enhanced as the child learns and repeats phrases in a song or verse. Songs that include "I Know an Old Lady who Swallowed a Fly," or "Five Little Monkeys," or familiar holiday tunes can give caregivers an opportunity to teach children about subject matter that includes math, reading, writing, seasons of the year and much more.
In the publication Young Children (March 2010) authors Rebecca Parlakian and Claire Lerner discuss the many ways that music activities impact literacy and language including; spoken language, receptive language and the way that children hear, recognize and use sounds.
Teaching and learning with music is an activity that won't cost you anything! You don't have to have a special instrument to sing to a baby. Your voice will be the favorite instrument for your child – even if you think you can't carry a tune. Common everyday items like glasses filled with water, kitchen utensils, pieces of PVC pipe and empty plastic bottles filled with macaroni noodles, rice or popcorn can provide an entire home orchestra for experimentation. Audio tapes and CD's can be found in your local library and at garage or mom-to-mom sales. Get together with friends and trade music CD's and videos to introduce new melodies to your children.
Use the internet for easy access to lyrics and music for common children's songs. A searchable online database is available through eXtension for songs and rhymes that can be printed for immediate use.
Music and movement activities are essential building block for a child's developing brain. Add to your child's brain food each day as you sing, sway, and swing into literacy.