National Youth Science Camp – encouraging innovation in STEM
High school seniors can apply to attend prestigious National Youth Science Camp at no cost – applications are due March 1.
High school seniors with a strong interest in science, high academic achievement and leadership experiences can apply to attend the 2014 National Youth Science Camp. Those selected attend the camp in West Virginia at no expense, transportation included. The camp will be held from June 27 to July 20, 2014, and is one of the nation's premier programs in secondary science education. One male and one female are chosen annually from each state for the intense, three-week residential camp. Students from many other countries are also selected to attend. Round trip transportation is arranged from an airport near the delegate's home to Charleston, W.Va. Campers are then bussed to the camp facility, Camp Pocahontas, just outside of Bartow, W.Va. Incidental expenses are not covered however.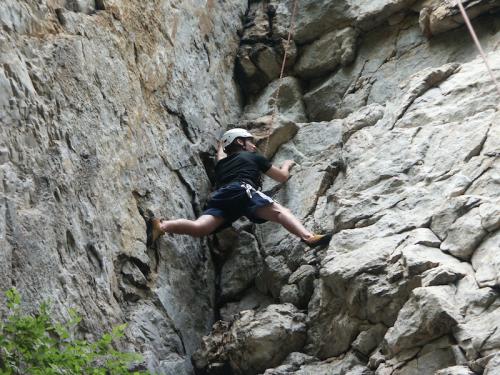 The National Youth Science Camp honors, rewards and encourages excellence in science – goals that align with those of Michigan State University Extension. The camp strives to broaden, inspire and encourage a sense of thoughtful scientific leadership among future scientists, engineers, mathematicians and health care professionals. Students are challenged academically in stimulating lectures by distinguished national experts and through small group learning experiences in a variety of science areas. The campers also have many opportunities to gain a new and deep appreciation for the great outdoors as they push themselves physically in an extensive outdoor program that includes activities such as kayaking, caving and mountain climbing. They also establish friendships that last a lifetime. Applicants can obtain a sense of the daily schedule, but further specifics about each day aren't revealed until camp to encourage delegates to experience each day fully and give undistracted attention to guest presenters.
Campers are selected based on exceptional academic proficiency, leadership and social maturity in school and community activities, and a genuine interest in pursuing a career in a science, technology, engineering or mathematics related field. The governor of each state appoints a selection coordinator who initiates a competitive process to choose two delegates and up to four alternates. Delegates attend the summer after their high school graduation. Interested Michigan high school seniors must register for an account to gain access to the online application packet. Applications must be submitted no later than March 1, 2014.
The National Youth Science Camp is made possible through the planning and fundraising of the National Youth Science Foundation. The mission of this nonprofit organization is to honor, sustain and encourage youth interest and excellence in science by conducting comprehensive informal science education programs that emphasize scientific careers. Funding is also provided from the State of West Virginia and private and corporate donors. Visit the National Youth Science Foundation website for more information.