Natural shoreline brochure now available
Colorful brochure provides answers to property owner questions about natural shorelines on inland lakes.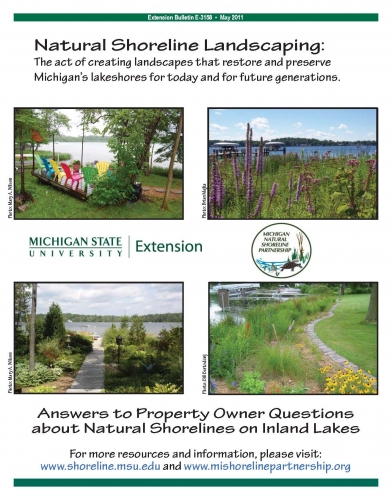 Lake associations looking for an affordable insert for summer
newsletters may be interested to know that MSU Extension Bulletin E-3158 is available at bulk prices through the MSUE Bookstore. This 8.5 x 11-inch glossy 4-pager is loaded with color photos of naturalized shorelines on inland lakes. Bullet points briefly point out the goals and benefits of natural shoreline landscaping and why native plants in the shoreline landscape are important. The back page provides before and after photos of natural shoreline projects at different stages of growth. Website addresses provide readers with access to additional information. It's a quick, easy and attractive read that can help lakefront property owners begin to visualize what might be done to create more lake-friendly landscapes on Michigan inland lakes.