New 4-H Pledge posters
Available in various sizes and formats, the 4-H Pledge Posters are a useful tool for 4-H members, volunteers and clubs.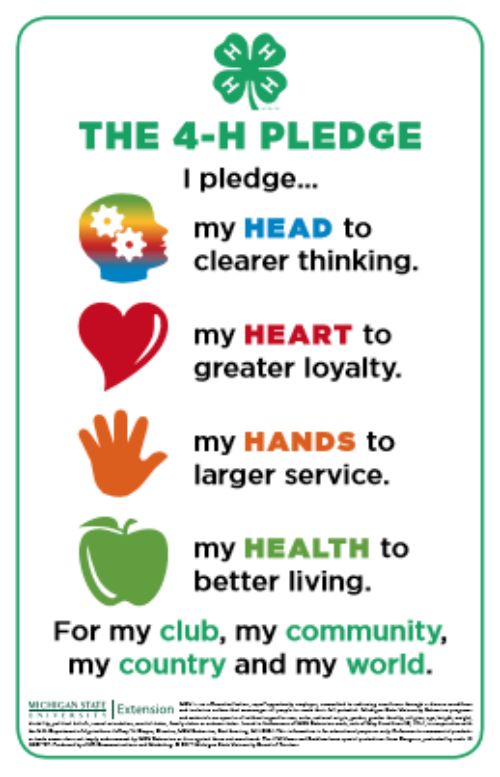 Michigan State University Extension has created new 4-H Pledge posters available for free in various sizes and formats for 4-H members, volunteers and clubs. If you're not familiar with the 4-H Pledge, you can learn about it by reading "Head, heart, hands and health: What 4-H means." Head, heart, hands and health are the words that thousands of 4-H members live by. Each time they recite the pledge, they are giving their all for their club, community, themselves and the whole world.
If you're not quite sure how you would use these posters, here are some ideas.
Feature the posters at a leader update or 4-H club meeting. They are available for free download can be printed by anyone to use at club meetings. They could also be printed and laminated to give to parents and volunteers as a resource to use and reflect upon.
Create a display. These resources were designed to be bright, bold and eye-catching. Consider creating a display near your MSU Extension office, at an event, where programming takes place or where your club meets. The posters can also be used to help with recruitment of youth and volunteers because the public can easily see and hear what 4-H is all about.
Play a game. By using the "4-H Head, Hands, Heart and Health" poster, see if you can get volunteers or youth to put the pledge in the correct order. Help them if they need it, but then walk them through the components of the pledge explaining each one just a little more.
Tell others about the resources in your newsletter or on social media. You can easily break the 4-H Pledge down and feature a different section each week or month. If using social media, ask a question like, "What does pledging your head to clearer thinking mean to you?" and then encourage others to respond.