New Animal Science Anywhere lesson explores animal diets and career options
The Feed Critters lesson is designed to help participants creatively compare human food and animal feedstuffs while exploring careers related to animal nutrition.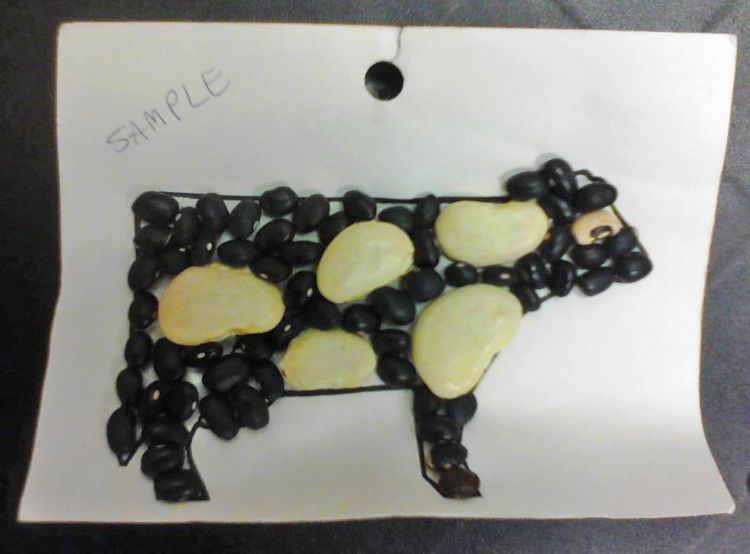 There is a lot more to an animal science project in 4-H than just showing an animal at the fair. Youth spend months learning about the correct ways to care for, feed and train their animals, as well as more general science concepts. One great way to increase science learning in a 4-H project is to use the 4-H Animal Science Anywhere lessons created by Michigan State University Extension 4-H staff. These lessons provide all the instructions, supply list, discussion points and suggested adaptations to facilitate learning important science concepts for youth. Each lesson is also aligned with eight Scientific and Engineering Practices from "A Framework for K–12 Science Education." Supplies are common household items or cost less than $10 if items need be purchased to teach the lesson.
The new lesson, Feed Critters, is designed to help participants compare human food and animal feedstuffs. In this activity, youth will pick an animal, create a mosaic from feedstuff and have a discussion about their feed critter. By creating this mosaic, participants will learn more about what animals should and should not eat, helping human caretakers be better caregivers.
This new lesson also helps youth to compare the diets of humans and animals—what foods are similar? What foods are different? For example, humans and some animals eat corn, but in very different forms. Both humans and some animals eat oats that are more similar. Humans can eat black beans, but those are not good for most animals. Some animals can eat cottonseed hulls, but that is not a product that is digestible or appetizing for humans.
Feed Critters provides youth the opportunity to choose from eight different animal silhouettes to talk more about an animal they are familiar with or to learn something new about a different species. Every participant can choose a different animal and then discuss their mosaic with each other, or the entire group can do the same animal and talk about the different items each person used. There are numerous ways this lesson can be taught and adapted based on the size, age range and experience of the group.
This lesson also incorporates questions to help youth think about jobs related to animal nutrition—how might an interest in this area of animal science lead to future education or career plans? Who works with feeding animals? What is this job?
To read the full Feed Critters lesson, as well as see all the 4-H Animal Science Anywhere lessons available, visit 4-H Animal Science Anywhere.
MSU Extension and the Michigan 4-H Youth Development program help to create a community excited about STEM (Science, Technology, Engineering, and Mathematics). 4-H STEM programming seeks to increase science literacy, introducing youth to the experiential learning process that helps them to build problem-solving, critical-thinking and decision-making skills. Youth who participate in 4-H STEM are better equipped with critical life skills necessary for future success.
To learn more about the positive impact of Michigan 4-H youth in STEM literacy programs and animal science programs, read our 2016 Impact Report: "Building Science Literacy and Future STEM Professionals."