New attendance record set at the August 27 Breakfast on the Farm at Hartland Farms
With cars as far as one could see, a new attendance record was set at the 35th Michigan State University Extension Breakfast on the Farm event.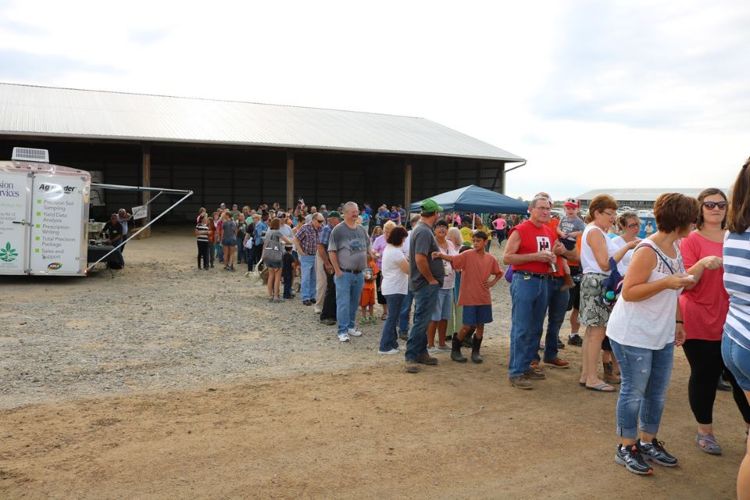 Hartland Farms, located very close to the Michigan-Ohio border in Lenawee County, hosted the final Breakfast on the Farm (BOTF) event in 2016 and drew a record-breaking crowd of 3,624 visitors. The farm is owned and operated by Brad and Tracey Hart and their three sons Chad, Nick, and Burke. Since 1836, the farm has supported seven generations, and four of them were on the farm the day of the event. The farm is a dairy farm with 970 milking cows. In addition, they produce 1,100 acres of corn, 600 acres of soybeans, 400 acres of wheat and 300 acres of alfalfa, most of which is fed to the animals. As you can imagine, there was a lot for visitors to see!
As visitors arrived, they were greeted by members of the host family before being treated to a delicious Michigan breakfast cooked by the 4-H Project Parents group. The menu included pancakes made from Star of the West Milling Company and Jiffy mixes that were served with maple syrup produced on the farm, Bob Evans sausage patties, Michigan apple slices, yogurt, and milk.
After enjoying the meal, guests embarked on a self-guided tour of the farm which included 23 different educational stations. Knowledgeable volunteers were present at each station to engage with the visitors and answer any questions. Speaking of volunteers, the crowd was a sea of yellow as 330 volunteers in yellow t-shirts guided, transported and cleaned up after guests.
Hartland Farms achieved verification in the Michigan Agriculture Environmental Assurance Program (MAEAP) in three systems-farmstead, cropping and livestock. Their commitment to water and soil quality was evident throughout the tour. For instance, visitors had a chance to see how the farm controls water runoff in the barnyard with a "greywater" catch basin that not only protects the environment but also helps crops in the next growing season. There was a unique soil and water quality station which demonstrated the use of controlled drainage using buried field tiles. Other stations focused on the care, housing and well-being of the cows and calves.
This Michigan State University Extension program began in 2009. Since then, more than 80,800 people have gotten a closer look at where their food comes from. In general, the program strives to educate the non-farm public about modern agriculture. On dairy farms, the educational focus is on how farmers care for their animals, protect the environment, and produce safe and nutritious food. Hartland Farms hit a home run with all three messages and we are thankful that they stepped to the plate and offered to host.
Breakfast on the Farm is made possible through generous support of many local sponsors and these statewide sponsors: Corn Marketing Program of Michigan, United Dairy Industry of Michigan, Michigan Wheat Program, Michigan Farm Bureau, Michigan Farm Bureau Insurance, Michigan Foundation for Agriculture, GreenStone Farm Credit Services, Dairyland Seed, Michigan Milk Producers Association, Michigan Soybean Promotion Committee, Zoetis and Crystal Flash.
For more information about BOTF, please visit the Breakfast on the Farm website. Questions can be directed to Mary Dunckel at 989-354-9875 or dunckelm@anr.msu.edu or Ashley Kuschel at 586-469-7616 or kuschela@anr.msu.edu.