New fact sheet on spotted wing Drosophila management for home fruit production
Learn about spotted wing Drosophila and how to manage its damage in home fruit plantings with this helpful new fact sheet developed by Michigan State University Extension.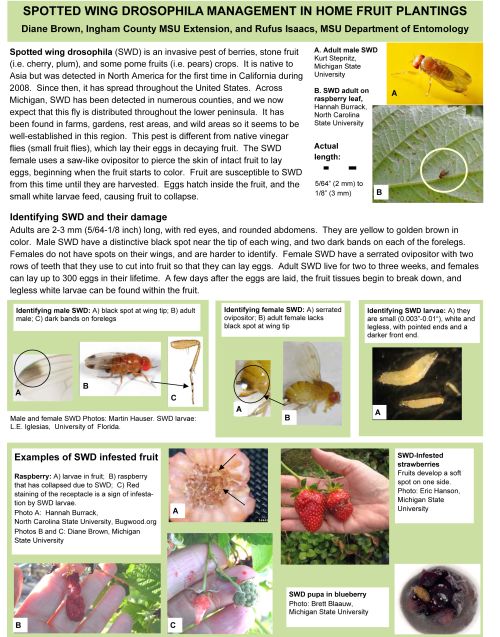 Spotted wing Drosophila (SWD) is an exotic fruit fly that was first detected in Michigan in 2010 and has become established in Michigan's Lower Peninsula within the last couple of years. It is a serious pest of fruits such as blueberries, raspberries, strawberries and cherries in commercial plantings, and also affects fruits grown in home fruit gardens. Spotted wing Drosophila is active during summer and fall when fruits are ripening.
The new Michigan State University Extension fact sheet, "Spotted Wing Drosophila Management in Home Fruit Plantings," explains how to identify SWD and its damage to fruit. The fact sheet contains photographs of adult male and female SWD, larvae and pupae with key identification features and examples of damage to fruit to help home gardeners determine whether or not this insect is present in their fruit plantings. There are instructions on how to construct a simple monitoring trap to catch SWD adults as well as directions on how to use the trap for best results. The fact sheet also covers methods of managing SWD in home gardens, including non-chemical options.
Download the fact sheet here: Spotted Wing Drosophila Management in Home Fruit Plantings