New Michigan Youth Zoonotic Education Resources
Grant allows for increase in Michigan youth resources including an educational bulletin and hands-on lessons that feature zoonotic vocabulary, biosecurity management strategies and pathogen explanations.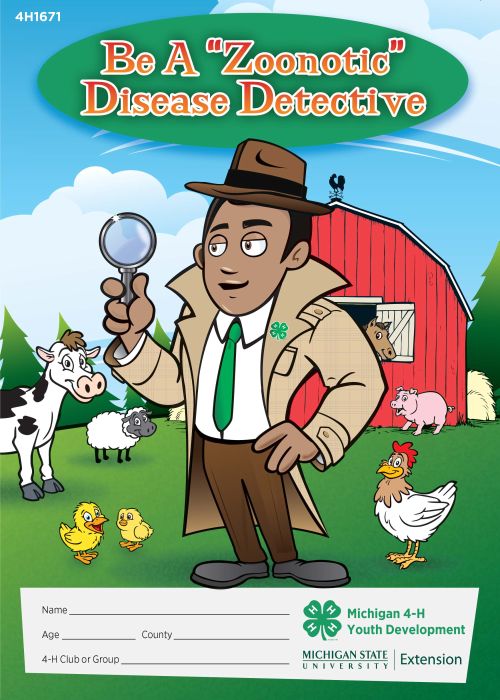 Nearly every animal and human becomes sick at some point. When an illness is caused by a pathogen, it can spread quickly through a herd or flock, or from animal to human or human to animal. So, how do we teach youth about the concerns involving both human and animal health? The new zoonotic curriculum developed for Michigan 4-H youth is one answer.
Michigan 4-H and Michigan State University Extension are currently distributing the Be A "Zoonotic" Disease Detective bulletin to over 50 thousand Michigan 4-H members enrolled in clubs. Michigan FFA members will soon be receiving their electronic copy as well!
This educational piece is being provided to youth as part of the $20,000 grant received from the Council of State and Territorial Epidemiologists and Centers for Disease Control and Prevention. The grant has provided an educational program that will implement two strategies with the intent to increase awareness of zoonotic diseases and the possible health risks. Strategy one is the distribution and use of the Be A "Zoonotic" Disease Detective in both print and electronic forms. This 8-page bulletin is also available as a downloadable PDF with an answer sheet from the MSU Extension website and the Michigan 4-H website.
The second strategy is the creation of the Zoonotic Disease Educational Tool Kits. More than 1,900 kits will be delivered to 4-H volunteers, FFA advisors and Michigan Association of Fairs & Exhibitions members this winter! The objective is for the kits to be utilized during classes, workshops, 4-H club meetings and other agricultural literacy events. These kits reinforce the content from the bulletins and include three complete Animal Science Anywhere lesson plans with supplies to complete each of the lessons. These lesson plans will discuss the basic, practical application of good biosecurity principles and practices; definitions and differences of common pathogens; and important vocabulary for understanding human and animal health. The lessons are flexible, providing adaptations for various locations, ages and audiences.
The goal of this grant funded project is to improve youth awareness and understanding of zoonotic disease transmission and motivate them to take precautions, and encourage development in the life skills of personal safety and disease prevention. Youth will be actively engaged in the learning and discovery process in both strategies; learning by doing. The goal is for these new resources to increase conversations and understanding related to human and animal health, while also increasing prevention methods used by youth and adults.
For additional information about the Michigan youth zoonotic disease resources, visit the Michigan 4-H Zoonotic Disease page or the MSU Extension website for animal science content.
The grant is in cooperation with MSU Extension, the Michigan Department of Agriculture and Rural Development, the Michigan Department of Community Health and the MSU College of Veterinary Medicine.