New mobile CNC lab hires director
Northern Michigan's new mobile CNC manufacturing lab (The FAB LAB) hires director and is set to begin operations in early 2014.
In collaboration with its Manufacturing Advisory Team partners, North Central Michigan College hired a new director for the Mobile Digital Manufacturing Lab, the "FAB LAB". Kevin Glines has been selected to lead this new and innovative program. Kevin has an extensive manufacturing and Computer Numeric Control (CNC) related background. He will concentrate on teaching the skills needed by modern manufacturing, to high school and college students as well as workers already employed by our region's manufacturers.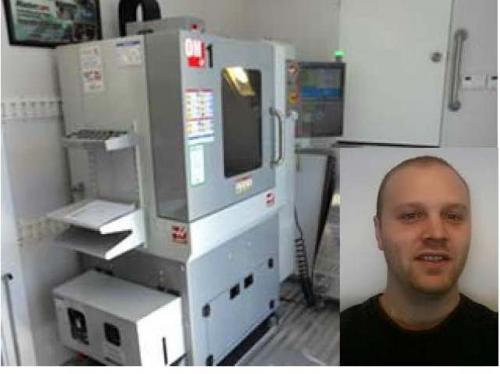 Photo: Kevin Glines selected as "Fab Lab" Director
Kevin grew up in Pennsylvania and has a Bachelor's degree in Industrial Design. He has several years of experience in design and engineering, CNC programming and working with a variety of CAD software including MasterCam and AutoCad. Most recently, Kevin was employed by MTD in Antrim County, Mich. as a CNC programmer and consultant on special projects.
Kevin will be the "face" of this fantastic new program, showcasing the FAB LAB to the public, to emphasize the skilled-technical manufacturing careers that are available. Kevin has the perfect mix of technical skills and the ability to relate to individuals at all skill levels along with a passion for advancing modern manufacturing in northern Michigan.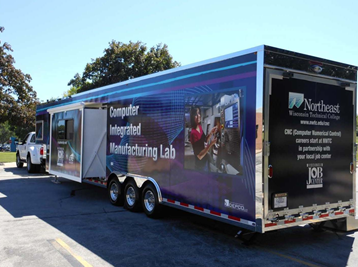 Photo: New Mobile CNC Lab in Northern Michigan
The FAB LAB is currently being built and equipped and will available for training in late February. For more information or to sign up for CNC training contact Tom Erhart at NLEA tom@northernlakes.net
Michigan State University Extension partner, Northern Lakes Economic Alliance (NLEA), brought this idea to the region in response to area manufacturer's inability to find skilled people to fill ever increasingly more technical manufacturing skills. The NLEA immediately assembled a collaborative group of partners, in order to make this project a reality. These partners included: Northern Lakes Economic Alliance, North Central Michigan College (NCMC), Precision Edge Surgical Products, Michigan Economic Development Corporation (MEDC), Char-Em Intermediate Schools, Northwest Michigan Council of Governments, Little Traverse Band of Odawa Indians, Charlevoix County, ACAT Global LLC, Moeller Aerospace Technology Inc., Industrial Magnetics, Inc, EJ, Honeywell, DE-STA-CO, Boyne City Public Schools, Pellston Public Schools, East Jordan Public Schools, Central Lake Public Schools…and the list of supporters continues to grow.