New MSU Extension Field Crops Virtual Breakfast meetings start April 26
Start your Thursday morning by joining field crop specialists and educators to talk about in-season production and pest management issues.
April 18, 2018 - Author: James DeDecker, and Monica Jean, Michigan State University Extension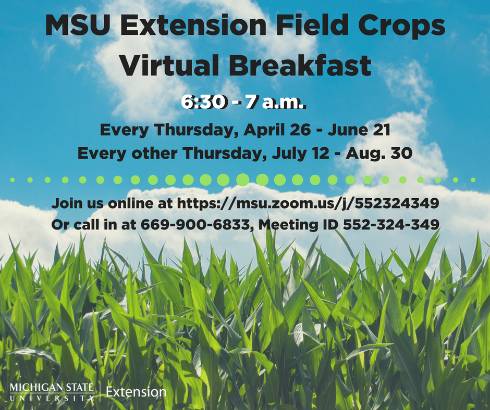 Michigan State University Extension specialists and educators who work with field crops are teaming up to bring agribusiness professionals and farmers a series of "Virtual Breakfast" meetings. These 30-minute online meetings will start your day off right with discussion of current field and weather conditions, timely crop production tips and the latest information on emerging issues likely to affect growers across the state.
The live, online meetings will run 6:30–7 a.m. every Thursday from April 26 to June 21, and every other Thursday from July 12 to Aug. 30, 2018 (see full list of dates below). Participants can join using their computer, mobile device or regular phone line. Follow the Zoom link at https://msu.zoom.us/j/552324349 to join online, or call in by dialing 669-900-6833, Meeting ID: 552-324-349.
If you can't join at 6:30 a.m. on Thursdays, the presentations will be recorded and made available through the MSU Extension Field Crops website for on-demand access.
We've gone social! Stay up-to-date on what is happening in Michigan field crops by liking the MSU Extension Field Crops Facebook page or following @MSUEFieldCrops on Twitter.
Field Crops Virtual Breakfast scheduled dates
April 26
May 3
May 10
May 17
May 24
May 31
June 7
June 14
June 21
July 12
July 26
Aug. 9
Aug. 23
Aug. 30
This work is supported by the Crop Protection and Pest Management Program 2017-70006-27175 from the USDA National Institute of Food and Agriculture. Any opinions, findings, conclusions or recommendations expressed in this publication are those of the author(s) and do not necessarily reflect the view of the U.S. Department of Agriculture.
---