New MSU study seeks grassland cooperators
Cooperators are needed to help in assessing the effects of grassland harvest on pollinator populations.
Michigan State University (MSU) Department of Entomology scientists Rufus Isaacs and Doug Landis have received a U.S. Department of Agriculture grant to investigate the effects of grassland harvest on pollinator populations and are looking to team up with grassland owners and managers to assist with their efforts.
Bioenergy crops have the potential to change the landscape in the Midwest and, subsequently, the habitat of the wildlife that depends on it. This grant will provide the opportunity to investigate ways that biofuel crops – in this case, perennial grasses – can best be managed to minimize adverse effects on insect pollinators.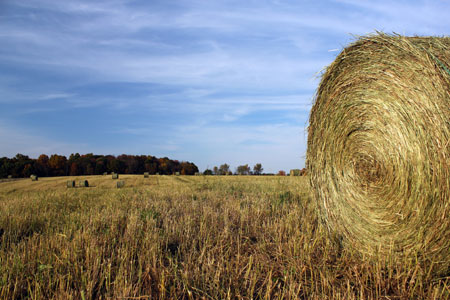 The study will compare pollinator communities in warm-season grasslands, primarily switchgrass or mixed prairie plantings containing Indiangrass, big bluestem or switchgrass, which are either unharvested, partially harvested (leaving a 10 percent refuge strip on one side) or completely harvested.
The research team is looking for sites in Michigan with three grassland fields about two to four miles apart where landowners or managers would allow partial to full cutting and hay removal in the fall of 2012 and 2013. Sampling in all sites would involve three visits (July, August and September of 2013 and 2014) to assess bee species and population levels. The team would like to work with local cooperators who would harvest the sites in return for the harvested forage.
It will take a collaborative effort to be successful in this endeavor. We can't do this work without landowners who are willing to provide access to their fields so that we can do the pollinator sampling required to inform future policies and management practices. This project is part of our overall goal to use Michigan native plants to produce win-win situations for agriculture, communities and the environment.
Study results will be used as the basis for harvesting guidelines on providing sustainable sources of biomass for bioenergy production while maintaining critical resources for pollinators in agricultural landscapes.
For more information, please contact Julia Perrone at 517-432-5282.
Drs. Isaacs and Landis' work is funded in part by MSU's AgBioResarch.
Did you find this article useful?
---
You Might Also Be Interested In