New resources will help professionals use Michigan produce in school meal programs
Making Michigan Recipes Work is a series of resources designed to help school food professionals expand scratch cooking, Farm to School programs, and use of Michigan produce.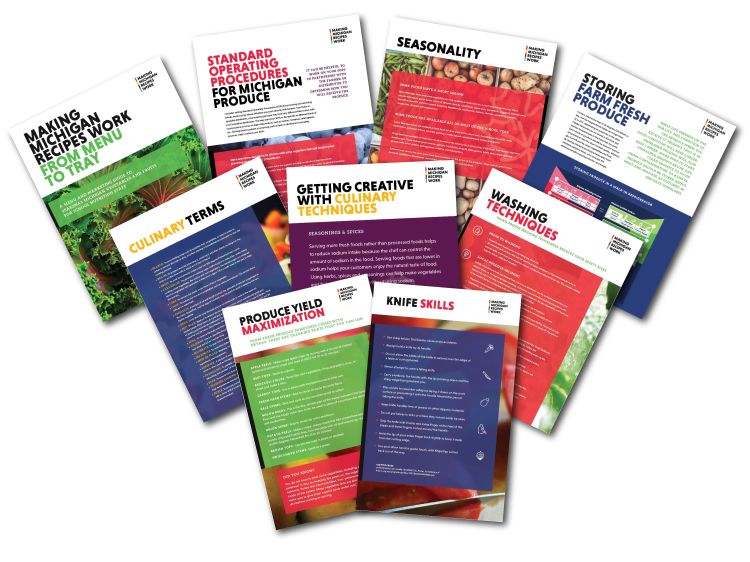 In partnership with Cultivate Michigan, Michigan State University Extension has released a set of resources that assist school food service professionals in handling and preparing Michigan produce in school meals. These resources are under the umbrella of a larger project called Making Michigan Recipes Work, which included a pilot round of in-person, hands-on trainings to better equip school food professionals on how to use Michigan produce.
Good news for the many school food professionals that were not able to attend these trainings – the associated curriculum and materials are now available, for free, online. You can locate all of these resources at the Cultivate Michigan website. There you will find a wide variety of tools, fact sheets and guides that assist with all the steps of using Michigan produce once it has arrived in your kitchen. For the most part, these resources are also suitable for other types of institutions as well. Below you will find the name and a brief description of each resource.
Resources
Making Michigan Recipes Work: From Menu to Tray. This guide covers how to substitute Michigan produce into institutional recipes and ideas for where Michigan produce can be included in institutional menus. For schools, the guide shares which Michigan produce items qualify for the required vegetable subgroups. It also contains an extensive list of Michigan produce items, detailing the child nutrition serving sizes that you can expect to get from various packaging options, including those typical to farm specific packaging, like bushels.
Standard Operating Procedures (SOPs) for Michigan Procedures: This fact sheet will assist in writing SOPs for receiving and using farm fresh produce by highlighting practices and considerations that will ensure you are receiving fresh and safe produce.
Seasonality: This short guide demonstrates the long-lasting seasonality of most Michigan produce items, differentiating between field fresh, season extension and storage availability.
Storing Farm Fresh Produce: This fact sheet shares the best practices for storing Michigan produce and presents a visual of where different produce items should be located in your cooler. It also lists appropriate storage temperatures for produce items that should not be refrigerated.
Culinary Terms: This fact sheet shares a selection of culinary terms that food service professionals will encounter in scratch recipes when preparing Michigan produce.
Knife Skills: This fact sheet shares best practices for safely and properly handling and using knives in the kitchen. These skills are essential for developing or expanding a scratch cooking meal program.
Washing Techniques: This fact sheet shares the best practices and special considerations for washing Michigan produce, particularly those products that may be coming directly from a farm. This is an important consideration because farm direct products may have gone through a different cleaning and preparation process than the products that are sourced from a distributor.
Produce Yield Maximization: This fact sheet shares ideas about how to use as much as possible of Michigan produce items. This can assist institutional food programs with stretching the cost of purchasing Michigan produce by using parts of the plant that may not be available when purchasing pre-processed produce, or if purchasing from a farm is more costly.
Getting Creative with Culinary Techniques: This short guide highlights a number of different culinary techniques to prepare Michigan produce. It shares recipes for spice blends that can be added to Michigan vegetables to increase flavor without adding sodium. The guide also describes a few pieces of kitchen equipment that can be helpful in beginning or expanding a scratch cooking meal program.
Coming soon
A series of videos that will demonstrate cooking techniques, Michigan specific recipes and knife skills
A poster for voting in a cafeteria taste test with new recipes
A number of recipes that incorporate Michigan produce
These resources do not cover the steps needed to source Michigan produce directly from a farmer. There are a number of resources that assist with that process, which can be found under the Institutions resource section of the Cultivate Michigan site.
Making Michigan Recipes Work is a project funded through a Specialty Crop Block Grant, a U.S. Department of Agriculture grant program, administered by the Michigan Department for Agriculture and Rural Development.
Michigan State University Extension supports the institutional use of Michigan produce in meal programs, to benefit Michigan communities and farmers.