New videos address greenhouse sustainability
About 40 short videos have been created to investigate how growers, academics, and industry leaders are addressing greenhouse sustainability in the U.S. and the Netherlands.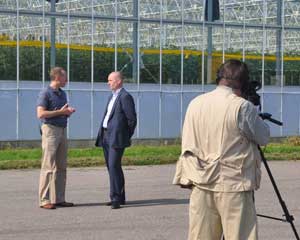 I have recently been working with the Dutch to explore how growers, industry leaders, and academics are addressing greenhouse sustainability issues. A series of interviews was performed on camera in the U.S. and the Netherlands, where topics such as energy, lighting, water, automation, pest control, logistics and profitability were discussed. Additionally, we sought answers to questions posed by greenhouse magazine editors about sustainable practices.
About 40 short videos, typically 2 to 5 minutes in length, were created and are now available at The Sustainability Initiative and on the project's YouTube channel, www.youtube.com/dutchsustain. Interviewees included Charlie Hall (Texas A&M University), David Arkell (360 Energy), Scott Giesbrecht (Green Circle Growers), Steven Bol (Koppert Biological Systems), Rob Meijer and Eric Poot (Wageningen UR Horticulture), Rene Schoone (Floracultura), Richard ter Laak (Ter Laak Orchids), Jeroen van Velzel (Lemnis Lighting), Tim Hodson (Greenhouse Product News), and many more. Each one presents their experiences and perspectives on specific topics such as LED lighting, recycling water, greenhouse automation, and marketing.
This video podcast project was produced as a joint venture by Agricultural Counselor Martin Olde Monnikhof of the Royal Netherlands Embassy, Washington, D.C.; the Horticulture Department of Michigan State University, and the Dutch Ministry of Economics, Agriculture and Innovation. The Sustainability Initiative team is comprised of Martin Olde Monnikhof, Erik Runkle, Caroline Feitel, and Sally Ferguson and David Caras of Ferguson Caras LLC.