Nightmare results for appliers of volcano mulch
Editor's note: This article is from the archives of the MSU Crop Advisory Team Alerts. Check the label of any pesticide referenced to ensure your use is included.
In response to our volcano mulch challenge, Mark Oomkes of Oomkes Landscape Management sent us something even better – pictures of what volcano mulching can produce.
Oomkes writes, "This was an otherwise healthy ash that blew over during a relatively mild storm a few years back. Wind gusts were recorded at about 60 MPH in the area. There was no evidence of emerald ash borer or any other pests at the time. The ring around the trunk from the volcano mulch is very visible. I'm not sure how high the mulch was, but would estimate 8-10 inches."
Be kind to your trees – keep that mulch back off the trunk.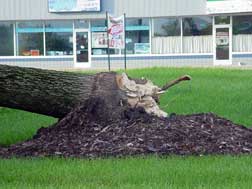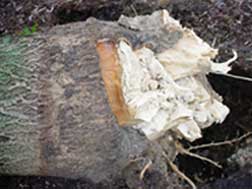 Did you find this article useful?
---