Nine ways to get the most out of your Zoonotic Disease Educational Toolkit
Tips for teaching youth about concerns relating to human and animal health including influenza, One Health and careers.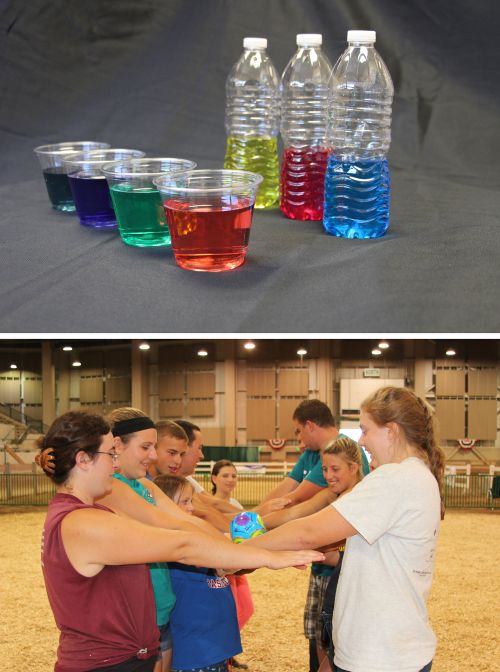 As part of the ongoing efforts of Michigan State University Extension and Michigan Department of Health and Human Services to increase prevention strategies for youth engaged in animal production, new resources have been created. Coming out fall and winter 2016 to 4-H volunteers through their county office are the new Zoonotic Disease Educational Toolkits. Each kit contains three new Animal Science Anywhere lessons and the supplies for these lessons.
The focus of these three lessons includes an introduction to One Health, influenza and careers relating to human and animal health. These lessons are intended to improve youth awareness and understanding associated with the possibilities of zoonotic disease transmission. Motivating youth to take precautions encourages them to develop life skills of personal safety and disease prevention. We hope these lessons will increase conversations and understanding relating to human and animal health while also increasing prevention methods used by youth and adults.
From dogs to donkeys, turkeys to turtles and cattle to cats, these new resources are geared towards youth who are interested in learning more about animal and human health. With 2,000 kits created, MSU Extension and the Michigan Department of Health and Human Services look forward to seeing the increased awareness and understanding this grant-funded resource will bring to 4-H youth and adults across the state. Utilize any of these nine suggestions for making the most out of your new resource.
Teach one lesson each month at 4-H club meetings or divide a lesson so it can be taught in more than one meeting.
Work with teen leaders to engage them in teaching the lessons within the community.
Adapt a lesson to better fit your group using the Adaptations and Extension section of the lesson.
Take them into the science classrooms. These lessons are now aligned to the eight Scientific and Engineering Practices in the Next Generation Science Standards.
Take parts of the lessons and utilize them as resources for events like Project RED to promote Ag Literacy.
Make copies of the lesson and have youth teach the lesson to family members. This will help their family continue to make positive choices for the health of humans and animals.
Think bigger! Consider using part of a lesson to better explain One Health to individuals at events such as One Health Day on Nov. 3 or Earth Day on April 22.
Share your kit with local veterinarians to help improve your Veterinarian/Client/Patient Relationship. (This is a great extension of the Michigan Youth Pork Quality Assurance training).
Create a 4-H SPIN club focusing on improving awareness of human and animal health.
As a reminder, we ask that you complete the survey included in each kit so adaptions can be made to resources to future audiences. The survey can either be mailed to Julie Thelen or completed online at: Michigan Zoonotic Disease Education Toolkit Survey.
If you didn't receive a kit, simply download the Animal Science Anywhere lessons located on the Michigan 4-H website and purchase or print off the needed supplies to complete each lesson. Teach the lesson as is or try something different, as each lesson features an Adaptations and Extension portion to provide additional ideas for implementation. Remember, you don't need to be an expert to help youth learn more about prevention strategies.
Michigan was fortunate to receive a second grant allowing for continued educational efforts. This project was funded by a grant from the Council of State and Territorial Epidemiologists and Centers for Disease Control and Prevention. For additional information about the Michigan youth zoonotic disease resources, as well as animal science content, visit the Michigan 4-H Zoonotic Disease and Michigan 4-H Animal Science pages.
Michigan State University Extension and the Michigan 4-H Youth Development program help to create a community excited about STEM (Science, Technology, Engineering, and Mathematics). 4-H STEM programming seeks to increase science literacy, introducing youth to the experiential learning process that helps them to build problem-solving, critical-thinking and decision-making skills. Youth who participate in 4-H STEM content are better equipped with critical life skills necessary for future success. To learn more about the positive impact of Michigan 4-H youth in STEM literacy programs, read our 2015 Impact Report: "Building Science Literacy and Future STEM Professionals."
---