NOAA B-WET and 4-H20: Growing watershed education and opportunities in northeast Michigan
Teachers, school administrators, and community partners participate in a floating workshop aimed to explore opportunities where schools and community can work together in engaging youth in feet-wet, real world watershed learning experiences.
On August 27, 2012, more than forty people embarked on a water quality education expedition out into Thunder Bay, Lake Huron aboard the Lady Michigan. Among this diverse group were teachers, school administrators, and community partners with one common interest—engaging youth, through learning, in water science and stewardship activities. This shipboard cruise was more than a nice evening on the water; this floating workshop brought together water education partners, projects and opportunities for engaging youth with their watershed resources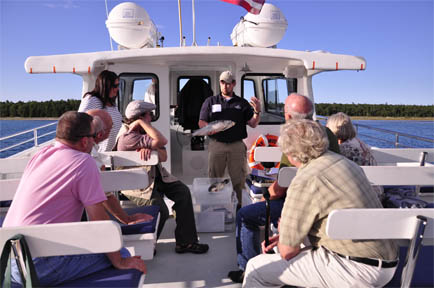 during the coming school year.
This shipboard cruise connecting school and community partners was launched off the Thunder Bay-focused NOAA B-WET (Bay Watershed Education & Training) "Our River, Our Future" watershed education grant, recently secured in northeast Michigan. Participants gainedan overview of regional 4-H20 water education opportunities available to educators in the region, learned about watershed efforts underway with community resource partners, and a youth-led regional watershed summit this coming spring!
These water focused partnerships and projects illustrate the spirit and principles of place-based education put into action in northeast Michigan. The NOAA B-Wet is "an environmental educational program that promotes locally relevant, experiential learning for K-12 school students [through] meaningful watershed educational experiences." National 4-H Youth Programs and Toyota USA provide support to northeast Michigan through the 4-H20 water education program, a national water education program aimed at involving youth in real‑world water quality education and environmental stewardship service, while providing professional development support for educators and communities working alongside these youth. In northeast Michigan, the Michigan Sea Grant and 4-H Youth Development staff have administered 4-H20 programming activities since 2008, and have partnered with the NOAA Thunder Bay National Marine Sanctuary and Community Foundation for Northeast Michigan in securing funding and providing leadership support for the newly launched NOAA B-Wet programming efforts. This growing network of watershed education efforts is connected, regionally, through the Northeast Michigan Great Lakes Stewardship Initiative network, supporting place-based education progr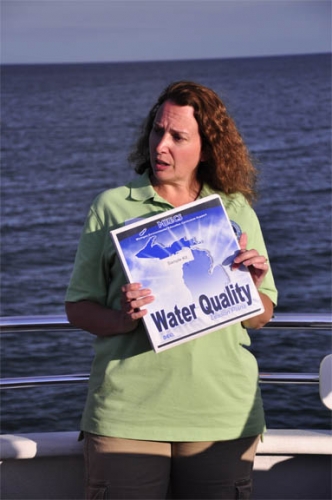 ams in the region.
During this school year, students will be developing place-based projects on their own watersheds and working with community watershed partners in developing water monitoring stewardship projects locally. B-WET educators connected with Alpena River Center, Thunder Bay River Watershed Council, and Huron Pines are all organizations engaged in community-related and habitat restoration activities focused on the Thunder Bay River Watershed. With 4-H20 program support, school and community partnerships are being fostered across other area watersheds.
During this trip, teachers and partners gained first-hand experience of how students could kick-off their watershed studies through one of many on-the-water opportunities available to their schools. The NOAA B-WET and 4-H20 efforts will allow students to start their watershed study with a similar field trip out on Lake Huron aboard the Lady Michigan, where they will learn about water quality, fisheries and aquatic ecosystems, and how people are connected with water resources of Michigan. While on Lake Huron, students will make connections between their respective inland watershed studies and the health of Lake Huron fed by these tributaries. During this trip, educators also learned about supporting curriculum and resources available to them, including 4-H20 online, DEQ MEECS water lessons, Project WET, Project FLOW and Project FISH in support of students' water learning experiences.
Upon returning to shore, participants enthusiastically left the Lady Michigan with a wealth of partners, resources, and water education opportunities to look forward to with their students during this coming school year. The Northeast Michigan Council of Governments— leading an effort to coordinate regional watershed partners and efforts—shared an opportunity to engage students in creating a regional youth watershed summit this coming spring. This event sets the stage for B-WET and 4-H20 participating youth to share their watershed exploration experiences and project findings between area schools and communities of northeast Michigan.