Northeast Michigan field crop regional report – May 7, 2015
A recent string of dry days allowed producers to complete seedbed preparation and make good early progress with planting.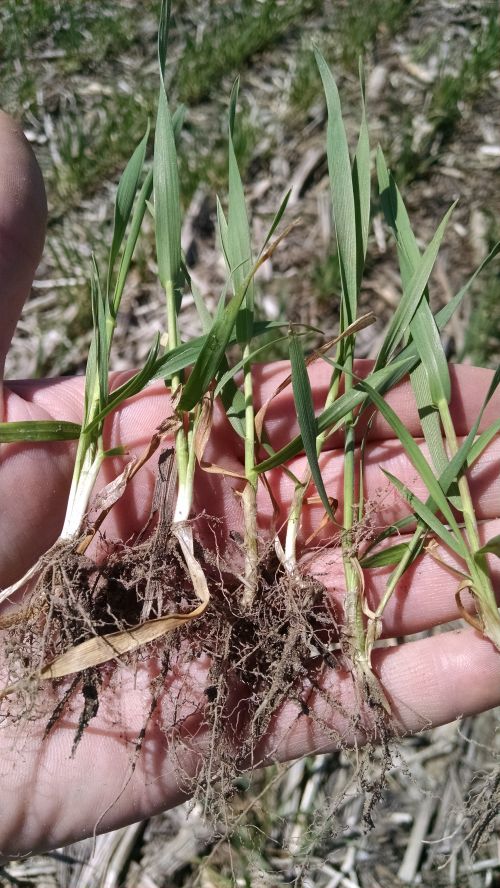 Weather
Eleven dry days between Thursday, April 23, 2015 and Sunday, May 3 paired with warmer temperatures allowed producers in the northwest Michigan region to make impressive progress with spring fieldwork. Although a few low areas remain too wet for wheel traffic, producers have been on the move.
Most fields have received fertilizer or manure. Many have been tilled to incorporate the residue of last year's late crops. Winter annual weeds such as white campion are quite prevalent in fields that have not been tilled since harvest. Pre-plant herbicide applications are also occurring with planned herbicide applications in wheat to follow. Hundreds of acres of sugarbeets, oats, barley, forage and corn have been planted in the last 10 days.
Rainfall
Northeast Lower Michigan has been dry for a couple of weeks with only two wet days amounting to 0.06-0.10 inches of precipitation since April 22, a total approximately 1.2 inches below the five-year average for this period. Overall, this spring has been 42-69 percent drier than average, allowing growers to make significant progress with early field preparation and planting. However, the short-term forecast includes significant chances for showers and thunderstorms beginning late Friday, May 8, and predicted to linger through Tuesday, May 12. Total rainfall from this system is expected to be 1-2 inches.
The 6-10 and 8-14 day outlooks from NOAA indicate that northeast Michigan will experience slightly below to near normal precipitation in the next few weeks. Long lead forecasts suggest the first part of summer will be drier than average in Michigan.
Growing degree days (GDD)
Daily high air temperatures over the last week have ranged from 58 to 82 degrees Fahrenheit with nighttime lows between 33 and 47 F. Average daily temperatures for this period were 1-4 F warmer than normal. GDD have accumulated at a slightly faster pace with this increase in temperature, totaling 511 base 32 F, 239 base 41 and 99 base 50 since March 1. These GDD totals are approximately 77 percent greater than last year at this time, and exemplify a much more normal progression of spring warming in the northeast.
Temperatures are expected to peak in the low 80s May 7 and 8 before the coming cold front pushes daytime highs down into the 60s and then 50s as we move into next week, May 10-12. A slight risk of frost is projected for the middle of next week before this temperature trend reverses. The medium range outlooks from NOAA suggest temperatures will swing from slightly below normal to slightly above normal in coming weeks.
Commodity reports
Winter wheat is growing quickly in response to warmer weather. Most stands range in development from Feeke's stage 4 to 5, with later planted fields quickly improving in condition. Nitrogen fertilizer application is essentially complete, with most growers planning only a single application to avoid potential conflicts with planting and other activities. Average soil temperatures are now hovering around 47 F, which is encouraging new root growth.
Herbicide applications are beginning, but the window for growth regulators such as 2, 4-D will close within the next week or so. No true armyworm moths have been trapped at our monitoring site in Presque Isle County and no catches have been reported from the Southern Lower Peninsula, suggesting the flight has not begun.
Alfalfa has undergone accelerated growth over the last week. Most plants are 5-8 inches tall and have 5-7 fully expanded trifoliate leaves. First cutting will hopefully be timely this year due to favorable conditions thus far. Michigan State University Extension recommends beginning harvest of dairy quality alfalfa at the mid-bud stage, which normally coincides with the accumulation of 750 base 41 F GDD (currently 239 base 41). A few new seedings have been established this spring, frost-seeded or broadcast into wheat. Drilling of mixed hay has also begun. Cool season forage grasses are approximately 6-11 inches tall.
Oats have been sown in a number of fields over the last week. Many acres were seeded as a nurse crop for forages such as alfalfa and clovers. Predicted precipitation should aid germination oats and other spring small grains like barley.
Several hundred acres of corn are already planted. Individual growers have 10-50 percent of their intended crop in the ground. Average soil temperatures in the upper 40s to low 50s may slow germination of this early planted corn, and cool weather predicted for the middle of next week could put the crop at risk for some chilling injury. However, the advantage of timely planting should far outweigh this relatively minor risk.
Only a few acres of potatoes and soybeans have been planted in northeast Michigan. Some local growers have as much as 30 percent of their soybeans in, but only 9 percent of our anticipated soybean crop has been planted statewide.
No dry beans have been planted in northeast Michigan.
Other Michigan State University Extension field crop regional reports from this week: