Northwest Michigan fruit update – August 29, 2023
Apples continue to ripen and harvest time will be here before we know it!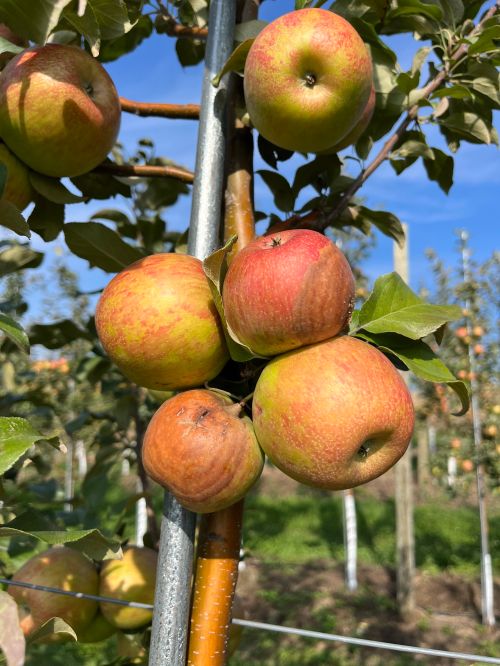 Pest report
Fruit rot. Some fruit rot has been observed on Honeycrisp apples at the NWMHRC (Photo 1). Infected apples are apples with cracks that we believe were formed from fruit being damaged by the hail event on May 31. Samples are being sent to campus to ID the causal pathogen
Apple scab. Secondary infection of apple scab may occur after wetting events.
RIMpro links:
Brown rot. Protective fungicides may be applied on peaches in advance of wetting events. Make sure to check labels for preharvest intervals.
Cherry leaf spot. Tarts should be covered with a protectant fungicide before rain events. Most of the season has been dry and therefore leaf spot has been minimal, but rain events have been occurring more frequently and cherry leaf spot infection will increase.
Apple Maggot. 2 apple maggot were trapped this week at the NWMHRC.
Black stem borer. No black stem borer were caught this week at the NWMHRC.
Codling moth. An average of 1.6 codling moth were trapped at the NWMHRC. We are seeing CM damage in unsprayed blocks at the station. Controlling the second generation of codling moth is recommended at this time, using different chemistries than what was applied during first generation. Growers are advised to trap for codling moth in individual blocks as populations can vary locally. The threshold for applying an insecticide for second generation adults is 5 moths per trap.
Obliquebanded leafroller. An average of 0.6 obliquebanded leafroller were caught in apple blocks of the NWMHRC trapline.
Oriental fruit moth. Zero oriental fruit moth caught at the NWMHRC.
San Jose scale. Adult flight of the second generation of San Jose scale continues at the NWMHRC.
Spotted tentiform leafminer. We caught an average of 90 spotted tentiform leafminer per trap this week.