Northwest Michigan fruit update – May 16, 2023
Bees have been active and we expect good pollination of tarts and apples this year. Weather conditions are forecasted to be cooler and drier than normal, which may work in our favor to avoid fire blight blossom infection this apple bloom.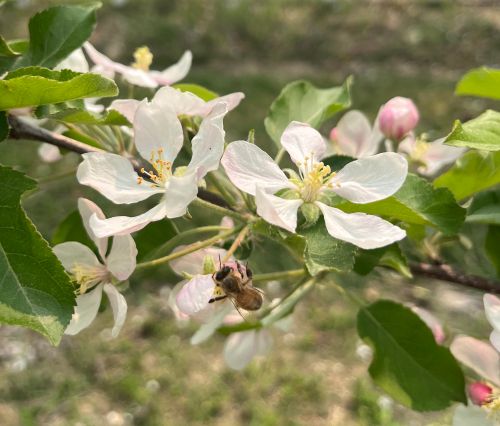 Weather report
The weather has definitely turned to spring, even feeling closer to summer on some of our recent warm days. Although a cooler trend was forecasted for the weekend and into this week, we have still had some surprisingly warm days. Last week started out seasonable with daytime highs in the mid-60s. By the end of the week, the Northwest Michigan Horticulture Research Center Enviroweather station recorded daytime temperatures near 80 degrees Fahrenheit. The weekend was a mixed bag for weather as Saturday, May 12, was beautiful, clear and in the low 70s while Mother's Day, Sunday, brought in clouds and daytime highs in the 50s.
Wednesday, May 17, will be the coolest day this week, and temperatures will top out in the mid-50s. Temperatures will rise again, but there are no days where the temperatures are forecasted to be above the mid-60s in the northern part of the state.
At this time, we have accumulated 396 growing degree days (GDD) base 42 and 213 GDD base 50. These accumulations are slightly ahead of our 33-year averages: 372 GDD base 42 and 168 GDD base 50. Notably, the accumulations base 50 are ahead of those averages, likely still as a result of those early warm days in April. Those accumulations seem to not reflect what the weather has 'felt' like this spring; overall, conditions have seemed on the cooler side, but the GDD accumulations seem to tell a different story. Listen to Jeff Andresen's weather report to hear more about heat units in Michigan.
One major weather trend that is evident is the dry conditions. The Northwest Michigan Horticulture Research Center Enviroweather station recorded 0.25 inches of rain May 5, the last day of measurable precipitation in the past few weeks. We also had a good rainfall May 1-2, where we had just over an inch of rain on those two days. There has been no rain in the past 11-plus days, and the forecasts are predicting the next rains on Friday or Saturday with relatively low chances for rain (50-60%). The best chance for rain is Friday into Saturday. Conditions in the orchard are dry. Evapotranspiration numbers are showing conditions more similar to summer than in spring, and there is little precipitation in the future to assist with these dry conditions.
Temperatures on Sunday night into Monday morning dipped down further than the forecasts were predicting. Although all the Enviroweather stations in fruit growing regions in northwest Michigan reported temperatures not below freezing, there were reports of isolated frost across the region. Cold overnight forecasts are also predicting cold weather tonight and into Wednesday morning, but frost warnings are limited to the central part of the state; there is a similar prediction for scattered frosts on Thursday morning, May 18.
Crop report
Bloom is over in sweet and tart cherry, and all varieties are in petal fall. Ulsters are a bit advanced, and we observed this variety to be in the shuck at the Northwest Michigan Horticulture Research Center yesterday (May 15). Apple bloom is beautiful. Galas are at 75% bloom and Honeycrisp is at king bloom.
Bees were active in the orchard yesterday with the sunny and warm conditions. We had mixed pollination weather for spring, and sweet cherries had a long stretch of cool weather and open bloom; we will have to see what was actually pollinated during that long stretch of cool conditions. Tart cherry bloom overlapped nicely with the warm and sunny weather, and there was an opportunity for excellent pollination in tarts. The same is true for apples; apples have had some good pollination weather for a strong set this season.
Pest report
Apple scab. Primary infection season continues for apple scab. Green tissue should continue to be protected before wetting events.
RIMpro links:
Cherry leaf spot. With the continuation of below-average temperatures, primary infection season for leaf spot will also linger. Trees are gaining lots of leaf area post-bloom and need to be protected with a fungicide against leaf spot infection before the next wetting event.
Fire blight. With temperatures hovering around the 60s and the continued dry weather, conditions are not favorable for blossom blight infection this week during bloom. Even though precipitation is not forecasted until the weekend, keep in mind that dew, heavy fogs or spraying for other pests can serve as sources of moisture too. The highest epiphytic infection potential (EIP) predicted by the Enviroweather model for the Northwest Michigan Horticulture Research Center this week is for today, May 16, with an EIP of 50. An EIP close to 100 is when we expect to see infection.
Michigan State University Extension recommends putting away the antibiotics and utilizing some of the weaker materials like Fireline (oxytetracycline) or Serenade this year, which should hold well through bloom. Shoot blight control should be the next thing on our mind even if no blossom blight this year. An application of 2 ounces Apogee plus 1 ounce Actigard (each per 100 gallons) at king bloom petal fall is recommended as the first line of defense against shoot blight.
American plum borer were caught in all traps at the Northwest Michigan Horticulture Research Center with an average of three per trap. American plum borer were also trapped offsite in Antrim and Leelanau counties.
Black stem borer. None were caught this week at the Northwest Michigan Horticulture Research Center. Black stem borer have been trapped offsite in Antrim, Leelanau and Benzie counties in orchards with pre-existing pressure.
Green fruitworm. An average of eight green fruitworm per trap were caught this week.
Oriental fruit moth. None were caught this week at Northwest Michigan Horticulture Research Center.
Plum curculio were trapped by MSU in Antrim, Leelanau and Benzie counties in orchards with a history of high plum curculio pressure. Early sweets will be reaching shuck split soon, at which point plum curculio can lay eggs into fruit. Ulster and Emperor Francis at the Northwest Michigan Horticulture Research Center have reached shuck split. Plum curculio activity is very low when temperatures are below 60 F. Temperatures for this week are predicted to be around this threshold when we will be reaching petal fall in apples.
Controlling this pest is unnecessary until after petal fall when the adult females have been mated and are laying eggs. With the low temperatures, it is recommended to also control plum curculio with a first cover application and in some cases a second cover application since the petal fall timing will not be as effective under the current weather conditions.
San Jose scale. None were caught this week.
Spotted tentiform leafminer. We caught an average of 154 spotted tentiform leafminer per trap this week.