Northwest Michigan fruit update – May 2, 2023
Current weather conditions have been cold and wet, but the forecast is for warmer and drier weather to move into the region. Warm weather will be welcomed for good pollination of opening sweet cherry.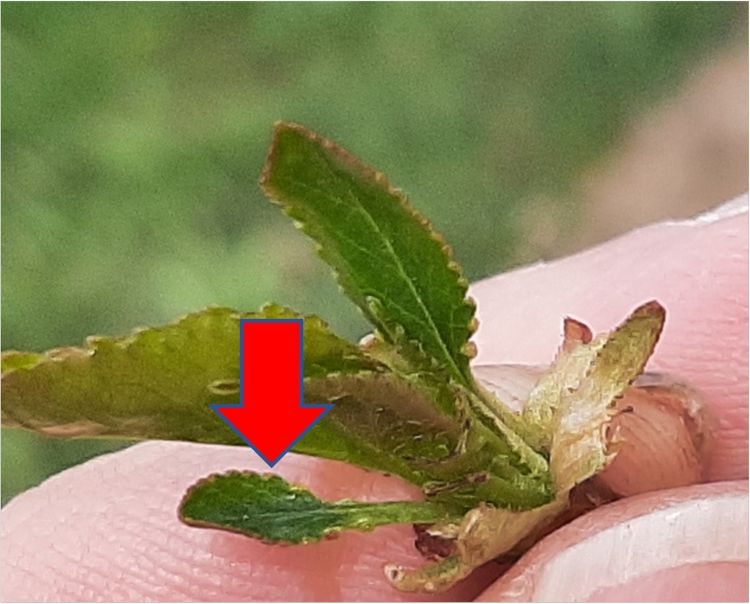 Weather report
The weather has been less than optimistic over the past week. Conditions have been cooler than normal, varying between 5 and 10 degrees Fahrenheit cooler for the last week of April into May. Daytime highs recorded at the Northwest Michigan Horticulture Research Center's Enviroweather site have mostly been in the 40s F for the past week. We had some days that never reached 40 and some days the station recorded temperatures into the 50s F. Friday, April 28, was the warmest day of the week, and the daytime temperature topped out at 65.7 F. Temperatures cooled back down over the weekend, and the daytime high yesterday, May 1, was 39.3 F.
Along with the cool weather, conditions have been wet with mixtures of rain and snow or a mixture of both. There were few accumulations of snow in fruit growing regions of northern Michigan, but pictures of other parts of the state show multiple inches of snow accumulations. Marquette, Michigan, reported 19.7 inches of snow on May Day, which set a new record for snowfall for that date.
According to Jeff Andresen, MSU climatologist, the wet conditions will linger through today and the weather will be dry tomorrow (May 3). Conditions will be mostly fair, dry and warmer for the remainder of the week with temperatures rising each day starting on Thursday. Traverse City, Michigan, weather forecasts are predicting temperatures into the mid-60s F on Friday and Saturday, and the forecast is predicting low 70s F on Sunday. The medium range guidance is predicting a major transition back to warmer than normal temperatures with normal to below normal precipitation. The long-term outlooks are calling for warmer than normal temperatures with normal to above normal precipitation.
At this time, we have accumulated 238 growing degree days (GDD) base 42 and 131 GDD base 50. These accumulations are still higher than our 33-year averages: 212 GDD base 42 and 88 GDD base 50. Even with the recent cold conditions, the northern part of Michigan still has more heat accumulations compared to normal from March 1 through May 1. We have also had some precipitation in the past few days in the form of snow, sleet and rain. The Northwest Michigan Horticulture Research Center's Enviroweather station recorded 0.14 inches on Saturday, April 29, 0.74 inches on May 1, and the station predicts another 0.34 inches of rainfall today.
Low nighttime temperatures have been a concern over this past week. We have seen various northwest Enviroweather stations dip below freezing for short periods of time. Last week's temperatures were cold during the overnights and early morning hours of April 25-27. The Bear Lake station seems to be reading the coldest of sites in northwest Michigan.
Crop report
With the recent cold temperatures in this past week, crop development remains slow and most crops have moved little since last week. Montmorency is now at bud bust, and we are seeing early white bud on Balaton at the Northwest Michigan Horticulture Research Center. We are still at tight cluster, maybe late tight cluster, in Gala and Honeycrisp. Sweet cherries are a little more variable in development across different varieties. Gold are at early white bud, we have first bloom in Ulster, and we observed 15% bloom in Emperor Francis.
Growers are cutting buds, and we have heard various reports of damage. Damage reports range from no damage to slight damage in cold sites/spots in the orchard, to more extensive damage in tart cherry. We have not heard reports of damage in apples. Pollination will certainly be on growers' minds as sweet cherry bloom has begun. We are all hopeful that the forecasts are correct and warm weather will move back into the region at the end of this week. Honey bees prefer to forage above 50 F, and they prefer little wind and sunshine, and all of these criteria are in the weather forecast later in the week.
Pest report
American brown rot. Temperatures are too cold early this week for American brown rot infection of sweet cherry cultivars with opening blossoms. As more cultivars bloom later this week, conditions are expected to be warm and dry, so infection is still not a major concern. Wet conditions lasting at least 5-10 hours are required for brown rot infection to occur at 68-86 F.
Apple scab. Ongoing wetting events started April 29 at the Northwest Michigan Horticulture Research Center (Light), Williamsburg (Moderate) and East Leland (Moderate) and April 30 at Old Mission (None). A wetting event in Benzonia with moderate risk lasted April 28- 30, and a new wetting period began May 1. With the average temperatures during this wetting event, the hours of wetness required for scab infection have been met at the Northwest Michigan Horticulture Research Center, Williamsburg, East Leland and the end of April event in Benzonia. The event at Old Mission has not lasted long enough for a scab infection. An eradicative spray will not be effective as the length of the infection period has exceeded the duration of any products' efficacy.
As temperatures increase later this week, the leaf wetness requirement to trigger another apple infection decreases. The good news is that the weather forecast is predicting conditions to be dry, so spore release cannot occur. Fungicides for scab will not be necessary until wet weather returns. With our recent cold temperatures and predicted warm up, growers will need to remain diligent about scab control as we have only begun the primary season for this disease.
RIMpro links:
Cherry leaf spot. Bract leaves have not yet expanded at the Northwest Michigan Horticulture Research Center. Until bract leaves have expanded, fungicide applications are not needed to control this disease. Bract leaf expansion is expected near 250 GDD base 42. Enviroweather is not predicting an accumulation of 250 GDD base 42 for the Northwest Michigan Horticulture Research Center, Benzonia and East Leland Enviroweather stations until May 5. The Williamsburg station is predicted to reach 250 GDD base 42 on May 3, and Old Mission station is predicted to reach 250 GDD base 42 on May 7. Monitor tart cherries for bract leaf expansion, which usually coincides with "popcorn" stage of bloom.
Bacterial canker. Some sweets are in bloom and others will begin blooming later this week, particularly when the weather warms. Frost damage has not been observed on these early blooming cultivars and sub-freezing temperatures are not in the forecast as we continue through bloom, so blossom blight is of little concern. Warmer and drier conditions are expected later this week, which is good news in terms of avoiding a spring epidemic of canker.
American plum borer. None were caught this week.
Black stem borer. None were caught this week.
Green fruitworm were also caught this week with an average of five per trap.
Oriental fruit moth. None were caught this week.
Pear psylla. No eggs were observed at the Northwest Michigan Horticulture Research Center.
Spotted tentiform leafminer were caught in two of three traps with an average of five per trap.