Northwest Michigan fruit update – May 23, 2023
Tart cherries are in the shuck, sweet cherries are sizing at 7.5-9.5 mm, and apples are at petal fall. Conditions have been dry and, as a result, disease pressure has been relatively low for most fungal pathogens.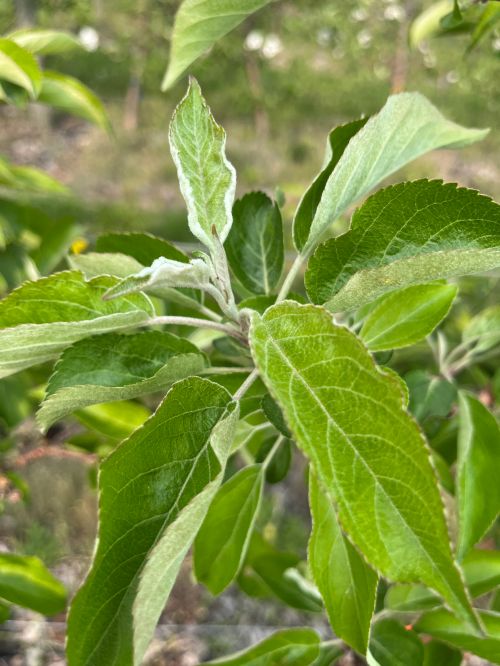 Weather report
The weather has been all over the board in the past week. We have had some sunshine, clouds, cool, warm and even a bit of much needed rainfall. Daytime temperatures have fluctuated between the mid-50s up to the mid-70s yesterday, May 22, and today may hit 80 degrees Fahrenheit. Tomorrow, May 24, is predicted to drop in temperature by almost 30 degrees, and the forecast is predicting temperatures in the 50s. Both Wednesday and Thursday are predicted to be cool, but the temperatures will rise by Memorial Day weekend when conditions will be back in the low to mid-70s. There is a slight chance of rain today, and there is no rain in the forecast for the upcoming week. There is also a chance of frost on Wednesday night into Thursday morning, and Thursday night into Friday morning; these conditions are more likely in areas closer to the center of the state.
The medium range forecast is calling for warmer and drier weather for most of the next one to two weeks. The new long-term outlook is predicting normal to above normal precipitation totals for the summer months. At this point, we could use some good rain. The Northwest Michigan Horticulture Research Center Enviroweather station recorded 0.13 inches of rain on both Friday and Saturday, 19-20 May. Despite this rainfall, conditions are dry across the region.
At this time, we have accumulated 474 growing degree days (GDD) base 42 and 250 GDD base 50. These accumulations are close to our 33-year averages: 468 GDD base 42 and 223 GDD base 50. View MSU state climatologist Jeff Andresen's weather report.
Crop report
At the Northwest Michigan Horticulture Research Center, Montmorency tart cherries are at shuck split and Balatons are in the shuck. Ulster and Emperor Francis are 9.5 mm in size, and Golds are 7.5 mm. Galas are at petal fall and Honeycrisp are at early petal fall.
Growers should be thinking about thinning in apples, and the 2022 thinning strategies document is still a great reference for decision-making. Most growers starting their thinning at pruning when removing buds was the starting point to get to the target crop load. The next time to thin is at petal fall, but the fruitlets are not super sensitive, so there is little chance of over thinning. However, this petal fall timing is a good place to get a jump on your thinning for the season. This nibble thinning concept has been around a while, but the idea is nibble away at the crop at each opportunity to thin. This concept is particularly important for growers in the north as temperatures are often cool at the time of thinning, so getting a jump on this process could work to our advantage.
Some growers may have begun thinning at full bloom, but if not, the next chance is now at petal fall. In most cases, growers have been hesitant to thin early because of the unknowns: frost damage, cool weather for bee activity and pollination. However, this year, we have little reports of cold weather damage in apples, and we have had a decent run of good weather for pollination. As a result, take advantage of nibble thinning this season. The natural apple background sensitivity to thinning can be seen in Figure 1. At petal fall, growers can expect to have only 10-20% thinning (Figure 2).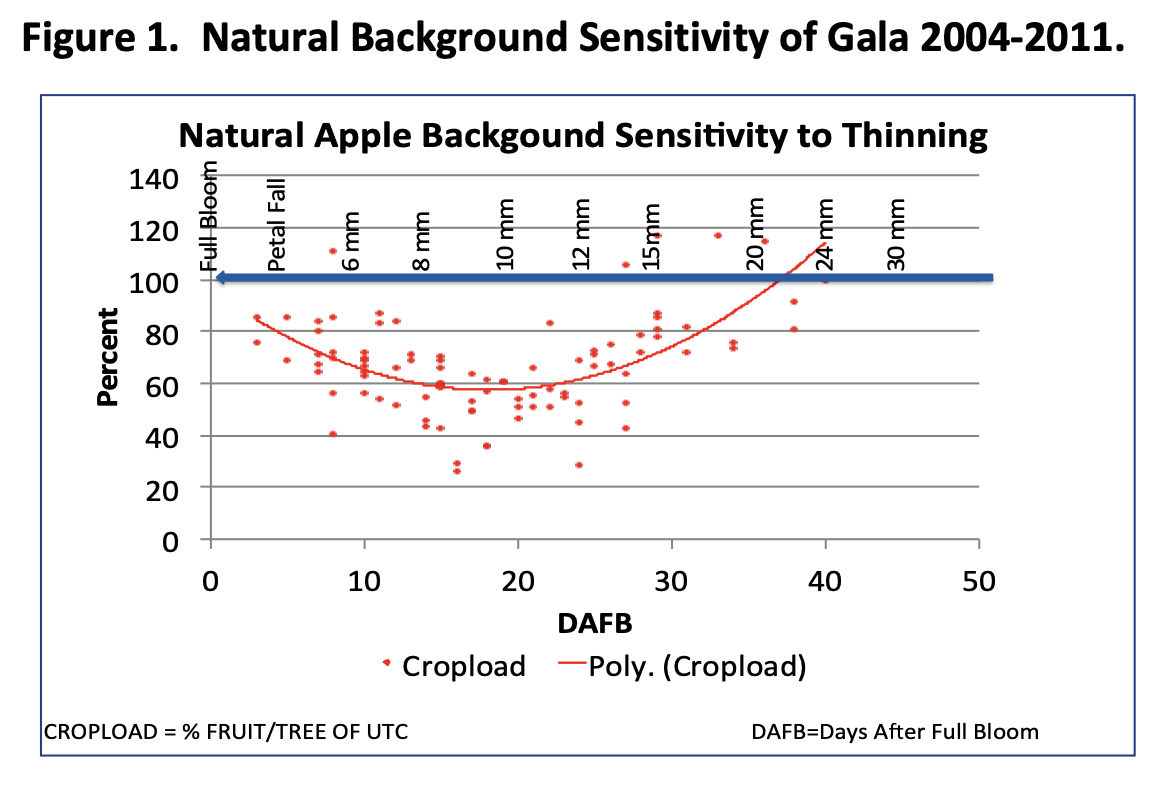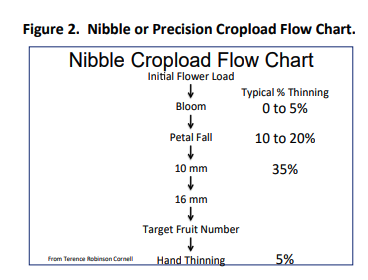 Pest report
Apple scab. Primary infection season continues for apple scab. Apples have had lots of shoot and leaf growth during the cooler temps and green tissue should continue to be protected before wetting events. The weather continues to look dry so an infection event is unlikely, but matured spores will survive until rain comes again.
RIMpro links:
Cherry leaf spot. Forecasts continue to be dry, so risk of infection is low. However, spores waiting for dispersal can survive for long periods of time, even in dry conditions. These spores will be ready to infect when rain returns, so tarts should be covered with a protectant fungicide before the next rain event.
Fire blight. The highest epiphytic infection potential (EIP) predicted by the Enviroweather model for the Northwest Michigan Horticulture Research Center this week is for today with an EIP of 94. An EIP close to 100 is when we are concerned about infection. There is a slight chance of rain today, May 23, and the slightest amount of rain at today's temperatures can result in an infection. EIP is expected to drop Wednesday due to the colder temperatures.
Apples at petal fall are still susceptible and should be protected. Michigan State University Extension recommends putting away the antibiotics and utilizing some of the weaker materials like Fireline (oxytetracycline) or Serenade to finish out bloom. You can also tank mix with 2 ounces Apogee plus 1 ounce Actigard (each per 100 gallons) to condition trees against shoot blight infection. We have seen a lot of excess leaf and shoot growth since weather has been cool and shoot blight control should be a top consideration.
Powdery mildew. We have heard some reports of powdery mildew showing up downstate and in the northwest. We are just about at first cover and an application for powdery mildew should offer good control of this disease for the season and avoid major issues with powdery mildew later. There has been an excess of leaf growth due to the cooler weather and these young leaves are susceptible. Germination is optimal from 59-82 F; exactly the temperature range forecasted this week and spores can infect even without a rainfall event. Rhyme (formerly Topguard) is the best sterol inhibitor for mildew.
American plum borer was caught in all traps at the Northwest Michigan Horticulture Research Center with an average of six per trap.
Black stem borer. Six were caught this week at the Northwest Michigan Horticulture Research Center. Black stem borer has been trapped off-site in Antrim, Leelanau and Benzie counties in orchards with pre-existing pressure. Bees should be getting moved out of orchards with the end of bloom and then applications for controlling adult black stem borer flight should be applied.
Green fruitworm. Average of two per trap this week.
Oriental fruit moth. None were caught this week at Northwest Michigan Horticulture Research Center.
Plum curculio continue to be trapped by MSU in Antrim, Leelanau and Benzie counties in orchards with history of high plum curculio pressure. Some oviposition scars and feeding were observed in early sweets that are out of the shuck. Even though conditions are dry, we recommend applying an insecticide on sweets for controlling plum curculio. Temperatures this week are expected to be above 60 F so plum curculio will be active. Now we have reached petal fall in many apple varieties, the adult females can lay eggs in apple fruitlets. An insecticide should be applied in apple orchards after bees are removed.
San Jose scale. Male San Jose scale were caught in one apple orchard at the Northwest Michigan Horticulture Research Center with a history of high pressure. Scale crawlers are expected at 400-450 GDD base 51 F after May 22. If you have had problems with scale in the past, be prepared to apply an insecticide when we reach this development stage to target the crawlers.
Spotted tentiform leafminer. We caught an average of 64 per trap this week.