Northwest Michigan fruit update – May 9, 2023
Weather conditions have been cool and wet, and tree fruit development has been slow. Sweet cherries have been in bloom for over a week with little bee activity. Warmer weather will help with pollination, and tart cherries will be in full bloom this week.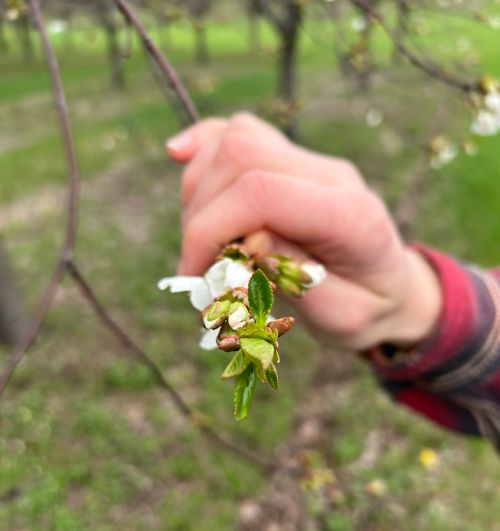 Weather report
The weather in northwest Michigan has been cool despite other parts of the state seeing daytime temperatures into the 70s degrees Fahrenheit. The warmest day last week recorded at the Northwest Michigan Horticulture Research Center Enviroweather station was Saturday, May 6, where we did hit 70 F for a short amount of time that day, although the day was overcast with a cool breeze. Outside of that warmer day, most daytime temperatures were in the 50s with even some temperatures topping out in the high 30s and 40s on May 1 and 2.
Temperatures are predicted to rise this week, and Thursday and Friday, May 11 and 12, should be in the 70s with sunshine. Rain is in the forecast for the upcoming weekend, and the best chance for rain will be on Mother's Day, May 14. According to Jeff Andresen, Michigan State University state climatologist, the warm weather will be replaced by cooler than normal temperatures next week. The forecast is calling for lows in the 30s and 40s with highs only into the 50s next week. The medium range guidance is calling for a return of cooler than normal temperatures next week; the forecast is also predicting drier conditions than normal.
Watch Andresen's Agricultural Weather Update - May 9, 2023.
So far for the 2023 season, we have accumulated 280 growing degree days (GDD) base 42 and 145 GDD base 50. With the recent cold weather, we have fallen behind our 33-year averages: 303 GDD base 42 and 135 GDD base 50. The region also received rainfall over the weekend. The Northwest Michigan Horticulture Research Center Enviroweather station recorded 0.63 inches of rain on May 7.
Crop report
As cool and cloudy weather has prevailed over the past week (until today), sweet cherry bloom has been prolonged. We reported sweet cherry bloom starting over a week ago, and blossoms have slowly been opening for many days. Bee activity was slow during cool conditions, but we did see activity pick up on Saturday, May 6, when daytime highs hit the low 70s F. The forecast for warmer weather will accelerate sweet and tart cherry bloom, and we expect to see petal fall start in some early varieties by the end of today and into tomorrow.
Tart cherry bloom has certainly moved quickly. When we arrived at work on Monday morning, May 8, we observed tart cherry bloom to be at first bloom. As of 10:45 a.m. on Tuesday, May 9, we are at 50% bloom in tart cherry at the Northwest Michigan Horticulture Research Center. We are just now starting to see pink in Gala and Honeycrisp.
Bee activity is on most growers' minds with the cold weather. This warmup will really ramp up honey bee activity, and our hives are certainly buzzing this morning. We hope this warm weather will help with pollination, particularly in sweet cherries that have been open for a long period of time. Some growers are reporting varying amounts of damage in tarts and sweets, but overall, most reports are favorable for a good crop. We have seen minor damage in apples, but only one flower out of a cluster of five may be impacted. Again, the potential for a good apple crop is there too.
Pest report
American brown rot. Many sweet varieties are in bloom and will be susceptible to blossom blast infection of American brown rot after a wetting event. Rain and 60 F temperatures are forecasted for this weekend. Wet conditions lasting at least 5-10 hours are required for brown rot infection to occur at 68-86 F. Rovral is the best option for American brown rot control during bloom as this material cannot be used after petal fall.
Apple scab. Primary infection season continues for apple scab. Green tissue should continue to be protected before wetting events. The wetness requirement is at its lowest, 9 hours only, from 61-75 F and we are expecting average temperatures in this range and rain heading into this weekend. We have had lots of wet conditions with significant and prolonged wetting events. Growers need to be on top of their scab game even though conditions have been cool. We have had a lot of moisture and high humidity that could begin scab infections that we will have to fight for the season if we don't control scab in the primary phase.
RIMpro links:
Cherry leaf spot. We reached bract leaf expansion at the Northwest Michigan Horticulture Research Center this past weekend and have quickly moved into bloom. Bract leaves and expanding first leaves are susceptible to primary infection of the cherry leaf spot fungus and should be protected with fungicides before rain. The percentage of spores released from lesions on overwintered leaves increases as temperatures increase, up to 86 F. This season's primary infection period could be a long one as forecasted temperatures are low. Growers need to be covering for leaf spot heading into the weekend where rain is in the forecast.
Bacterial canker. Blossom blight of sweet cherry is not a concern this year since we have not had conditions for a frost event during bloom and are not expected to this week.
American plum borer. One was caught off-site in Leelanau County. None were caught at the Northwest Michigan Horticulture Research Center this week.
Black stem borer. One was caught off-site in Leelanau County. None were caught this week at the Northwest Michigan Horticulture Research Center.
Green fruitworm. Average of eight per trap this week.
Oriental fruit moth. None were caught this week at the Northwest Michigan Horticulture Research Center.
Plum curculio were trapped by MSU in Antrim County. Plum curculio migrate into orchards during bloom after overwintering in woodlots, but they may overwinter in orchards that are organically managed. Controlling this pest is unnecessary until after petal fall when the adult females have been mated and are laying eggs. Plum curculio cannot lay eggs into stone fruit until fruit is out of the shuck. Activity is very low if temperatures are below 60 F and temperatures forecasts at this time for next week are looking to be below that threshold. Be prepared to manage this pest at petal fall if temperatures reach 70 to 75 F for few days before petal fall. This insect pest is often highly active when temperatures at dusk are warm, particularly following a rain event.
In recent years, we have considered plum curculio to be more of minor pest since spotted wing Drosophila has hit the scene, but be aware of plum curculio infestation if conditions are optimal. We are hearing reports of increased plum curculio pressure throughout the state so far this season.
San Jose scale. None were caught this week.
Spotted tentiform leafminer. We caught an average of 12 per trap this week.