Join us for a northwest Michigan grape pre-harvest meeting on Sept. 17, 2021
We'll talk about how to maintain a green canopy up to the end of the growing season and how to deal with late-season diseases and reduce disease pressure in the next growing season.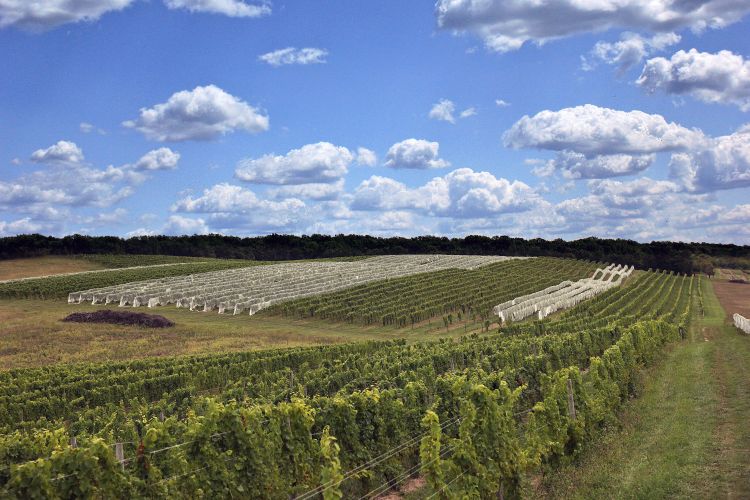 In northwest Michigan, most wine grape varieties are in the middle of or have completed veraison. Harvest begins soon on early wine grape varieties being picked for sparkling wine. Michigan State University Extension will hold an in-person meeting on Sept. 17, 2021, from 2-4 p.m. at the Northwest Michigan Horticulture Research Center (NWMHRC), 6686 S. Center Hwy Traverse City, MI 49684.
This year, it seems we will have a wet September, so we should expect more botrytis and sour rot pressure later in the season. MSU's Tim Miles will provide the most up-to-date botrytis and sour rot control strategies. He'll also talk about how to minimize the pressure of downy mildew and black rot in the upcoming growing season. MSU's Paolo Sabbatini will then discuss late-season canopy management and preparing vineyards for the dormant season.
Three Michigan Restricted Use Pesticide (RUP) applicator recertification credits for private and commercial fruit are offered.
Advance registration is required. Registration closes at midnight the day before the meeting (Sept. 16), so don't miss out!
Register for the 2021 Northwest Michigan Grape Pre-Harvest Meeting
Please click here to add the event into your calendar:
Agenda
Time

Speaker

Title

Location

2 – 2:45 p.m.

Tim Miles

Late-season diseases management
How to reduce downy mildew and black rot pressure in the next growing season

NWMHRC's vineyard

2:45 – 3:45 p.m.

Paolo Sabbatini

Late-season canopy management

NWMHRC's vineyard

3:45 – 4 p.m.

Q&A

NWMHRC's vineyard