Join us for a northwest Michigan grape pre-veraison meeting Aug. 6, 2021
We'll talk about how to use cutting-edge technology to decrease bird damage and do disease scouting (spore trapping technology).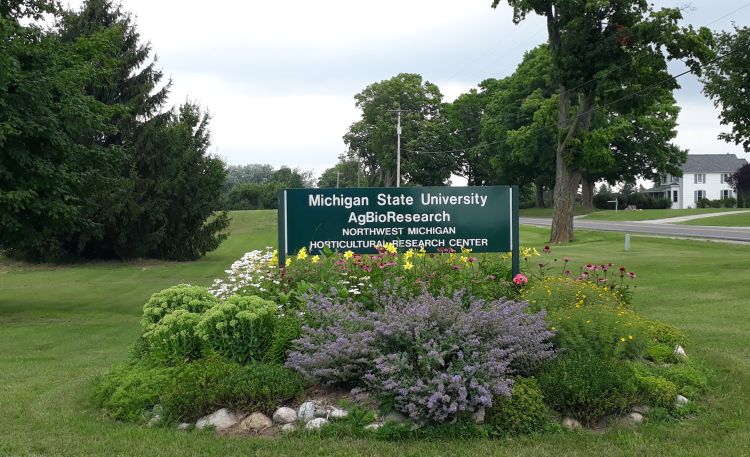 In northwest Michigan, red grapes change color from green to purple in the summer and begin to ripen in August. This stage of the vine's annual lifecycle is known as veraison, which is a French word that means "onset of ripening. As a general rule, the time from coloration to pre-harvest is typically about six weeks. In challenging, cooler vintages, veraison can take longer and lead to unevenly ripened grapes.
One of biggest grape production challenges after veraison is bird damage. Michigan is the fourth largest wine grape growing area in the United States, and according to data in "Bird damage to select fruit crops: The cost of damage and the benefits of control in five states," annual bird damage to wine grapes bird in Michigan is about 10% of total production (a significant revenue loss for growers), resulting in the highest crop loss in the United States.
Parallel 45 Vines & Wines and Michigan State University Extension will hold a hybrid meeting (in-person and over a Zoom call) on Aug. 6, 2021, from 3-5 p.m. at the Northwest Michigan Horticulture Research Center (NWMHRC), 6686 S Center Hwy Traverse City, MI 49684.
Advance registration is not required. Participants can use the following Zoom link to join virtually: https://msu.zoom.us/j/99846073261. Passcode: Grapes
Click here to add the event to your calendar
Michigan Restricted Use Pesticide (RUP) applicator recertification credits for private and commercial will be available for this meeting.
Agenda
Time

Speaker

Title

Location

3-3:45 p.m.

Eric Koch

Bird Control Technology

NWMHRC's conference room/Zoom webinar

3:45-4 p.m.

Break

Travel to NWMHRC's vineyard

4-5 p.m.

Tim Miles

Spore Trapping Technology for Grapes

NWMHRC's vineyard