Northwest Michigan fruit regional report – August 2, 2016
Spotted wing Drosophila numbers rose drastically in the last week. In apples, codling moth management is underway and a few apple maggots have emerged.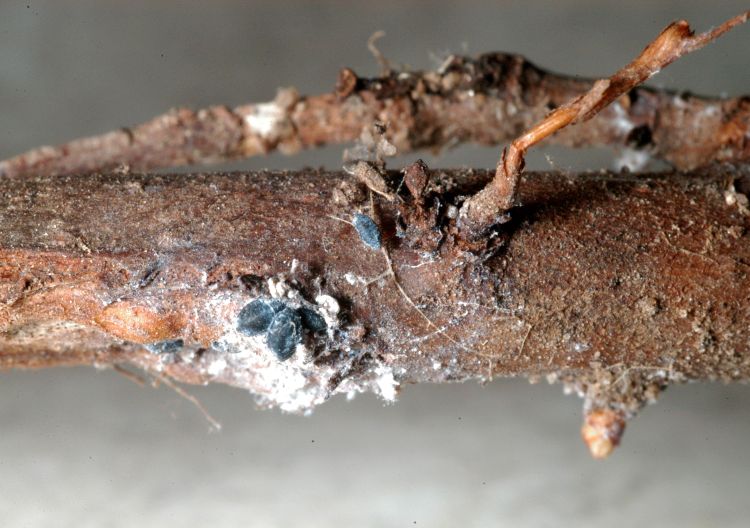 Crop report
Wine grapes shoot growth has been vigorous during the recent hot weather, resulting in a need for hedging in some vineyards. So far we have seen very little collapse of shoots related to the hail injury of 2015 (one year ago today). The window for powdery mildew infections on berries is closing soon. Japanese beetle numbers have remained low, as have potato leafhopper populations. Small, early instar hornworm caterpillars are now appearing in vineyards. Young vines in their first through third growing seasons are more at risk for significant foliage loss to these caterpillars, so be sure to scout young vineyards for these pests.
There are only a few post-harvest concerns in saskatoons. Entomosporium leaf spot is the most significant fungal disease threat; if we get into some periods of rainy weather, this disease can be a concern. For the most part, foliar-feeding insects can be tolerated for the rest of the growing season. Plan ahead now for fall dormant applications against woolly aphids. The old test planting of saskatoons at the Northwest Michigan Horticulture Research Center in Leelanau County was recently removed, giving us a chance to examine entire root systems for woolly aphids and their injuries. Infestations were found on several of the plants, but there was not a strong relationship between woolly aphids and plant vigor in this planting.
Pest report
Trap catches of spotted wing Drosophila (SWD) have risen drastically in the last week at the Northwest Michigan Horticulture Research Center (see table) and we have consistent catches throughout the northwest region. This rise in SWD numbers is in relation to the end of harvest and fewer insecticides that have been applied to fruit that are remaining in the orchard. In addition to leftover fruit in orchards, SWD have and will continue to reproduce in the many ripe alternate hosts in the landscape. We will likely continue to see increasingly high SWD populations in the coming weeks.
Anecdotally, evidence from the Northwest Michigan Horticulture Research Center indicates that the higher the SWD population in an area, the more pressure there is on a management program and the greater the risk of infested fruit. Some growers have finished or are nearing the end of harvest, but this has been a long tart cherry harvest for most. More northerly growers have blocks that are yet to be harvested and the coming weeks will be challenging for these growers. Michigan State University Extension continues encouraging growers to destroy fruit that are remaining in the orchard due to diversion, damage, infestation, etc. to help minimize the build-up of localized SWD populations.
SWD trap catches at Northwest Michigan Horticulture Research Center

Date

Average SWD per Trap

Total SWD

7/12/16

1.3

4

7/19/16

4.3

13

7/26/16

10.3

31

8/02/16

60.3

181
Cherry fruit fly numbers continue to be low and catches were inconsistent this season. Two weeks ago, an average of two cherry fruit flies were found at the research center. Last week, no cherry fruit flies were found at the research center, and we found a total of five this week. We have conducted extensive sampling of fruit for research trials at the research center, and while SWD larvae are common, no cherry fruit fly larvae have been found in our samples.
Obliquebanded leafroller moth activity was higher this week in cherries at the research center, with 10.3 moth per trap in cherries and about six moths per trap in apples. Larvae have not been found readily or easily in cherries; however, where they are present, larvae should be larger and more evident this week.
Borer flight is ongoing with a slight decrease in the numbers of American plum borer and lesser peachtree borer this week, with nine American plum borer moths per trap and about eight lesser peachtree borer moths per trap. Greater peachtree borers are the highest they have been this season with an average of 18 moths per trap.
Apple maggot flight is ongoing and trap numbers are low and consistent with last week. There was an average of 4.5 flies per trap, a total of nine per two traps found at the research center. These flies undergo a seven-to-10-day pre-oviposition feeding period after emergence. In areas where the pest was detected last week, egglaying will likely begin this week. Apple maggot emergence is also influenced by rain/soil moisture and there will likely be a higher flush of apple maggots following a good wetting event. Currently, there is only a slight chance for a small amount of rain on Wednesday morning, Aug. 3.
Codling moth numbers remain consistent with last week with an average of 2.5 moths per trap, a total of five moths in two traps. The research center set biofix two weekends ago on July 23 and we have accumulated 249 growing degree-days base 50 degrees Fahrenheit; codling moth eggs are hatching at this time.