Northwest Michigan fruit regional report – May 26, 2015
Growers are assessing damage from last week's freezing temperatures, thinning decisions will be challenging with the frost damage.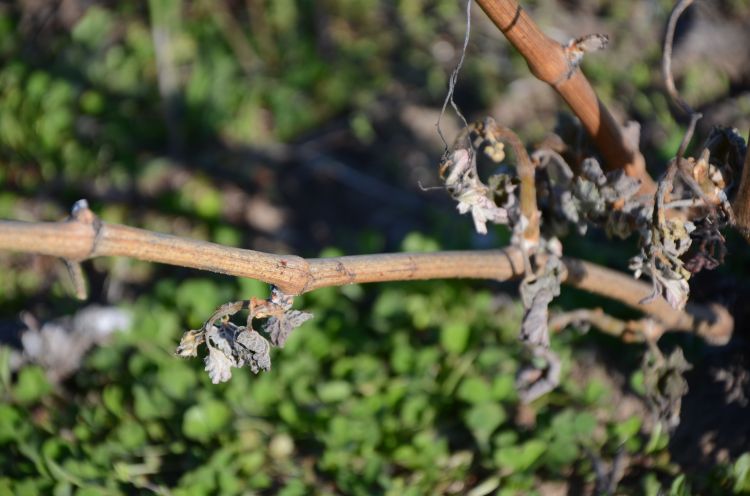 Weather report
The biggest news from the past week was the cold temperatures we had during the evening of May 20-21. The overnight temperatures were colder than most forecasts were predicting. The East Leland Enviro-weather station and Bear Lake Enviro-weather station were the coldest in the region, and temperatures dipped into the mid-20s. We have heard reports of local farms hitting the mid- to low 20s that evening. We are still assessing the damage from these cold temperatures, as the damage is variable across the region.
Our growing degree day (GDD) accumulations remain spot on with our 25-year average: 522 GDD base 42 and 261 GDD base 50. We also had substantial rain over the weekend. At the Northwest Michigan Horticulture Research Center (NWMHRC), we received 0.5 inches of rain Sunday, May 24, and just over an inch of rain on Memorial Day, May 25.
Crop report
In grapes, the freeze event of last Wednesday, May 20, was devastating to many vinifera vineyards in the Grand Traverse area. The winter cold took away our buds above the snow line, and this freeze killed many of the shoots in the lower portion of the vines. A day after the freeze, many of the vinifera varieties in the NWMHRC vineyard showed no live shoots at all. Some of the hybrid varieties were also injured, even up high on the trellis. The worst injury occurred on LaCrescent and Frontenac, as these had the most advanced shoots.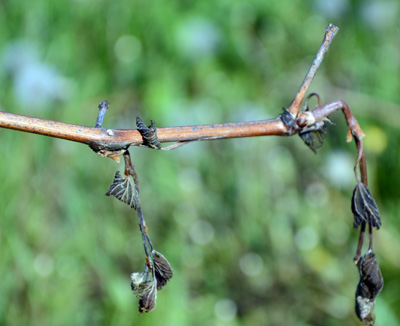 We are going to have to count on some of the remaining secondary and tertiary buds to take over to provide shoots for our vines. Hopefully some latent buds under the bark of older wood will also respond and begin development.
Saskatoons appear to have come through the freeze in good condition, although it will take some time before we know if there was any injury to the tiny developing fruits. The period of rainy weather we are currently in will favor development of entomosporium leaf spot and rust disease. Keep a cover of a protectant fungicide on if the weather allows for spraying conditions.
If you do not have a copy of the 2015 pesticide recommendations for Michigan saskatoon production, just send an email request to Duke Elsner at elsner@msu.edu.
As mentioned above in the weather report, we are currently determining the damage from the cold overnight temperatures last week. The more southerly areas appear to be hit harder as these orchards were furthest along – most of these orchards were at full bloom in early varieties of apples.
Overall, sweet cherries have the most damage, and many fruit that were facing "up" on the branch were frosted. Cherries under leaves appear healthy. Orchards to the north seemed to have fared the best as they were not as far along in development. In the Omena, Michigan, area, tart cherries were in full bloom Friday, and these orchards look healthy. Tart cherries were the least impacted by the cold temperatures. Additionally, apples that came into bloom after the frost also look good. We will have a better handle on the overall damage this week.
In addition to assessing damage, growers are starting to thin apples. Michigan State University Extension advises growers to wait until fruitlets are 6-10 millimeters before applying any thinners, particularly in orchards that have been impacted by frost. Growers have been hedging tart cherries this past week, and most orchards were covered prior to the rain events this weekend. If growers have high density apples they do not want to set a crop this season (i.e., trees need to grow more), a spray of NAA and Sevin at petal fall will thin off those blossoms; a second spray may be needed at the 6 millimeter fruitlet stage.
Pest report
Cold nights, warm days and dry conditions for most of last week were not favorable for apple scab, fire blight or cherry leaf spot disease infections. However, many growers were covering unprotected foliage and open blossoms over the weekend in anticipation of the rain that came Sunday and Monday.
As mentioned previously, the northwest region received over an inch of rain and up to 2 inches or more in some areas; these rains triggered apple scab and cherry leaf spot infection periods. According to the MSU Enviro-weather apple scab model, the NWMHRC (biofix = April 20) is over halfway through primary apple scab, and 92 percent of ascospores are mature and 57 percent have discharged. Hence, maintaining protection from possible scab infection is critical with the predicted wet conditions this week. We have not found apple scab or cherry leaf spot lesions from previous infection periods at this time, but apple scab symptoms from infection periods May 10-15 could appear this week, if infection occurred.
Many sweet cherries are out of the shuck, tart cherries are at shuck split at this time and leaves will need to be protected prior to rainy conditions this week. We would like to remind growers that chlorothalonil applications are not permitted post-shuck split, unless the application is Bravo Weather Stik made under the 24c Special Local Needs (SLN) label. Growers planning to apply chlorothalonil post-shuck-split in 2015 will need to conduct the online Bravo/Tart Cherry training program through the Michigan Department of Agricultural and Rural Development and receive and sign the training affidavit. Growers will need to keep a copy of the training affidavit as well as a copy of the 24c SLN label to apply chlorothalonil post-shuck split available while applications are made under this label. The 24c label is an indemnified label on Farm Assist. For more information on how to navigate the Farm Assist website to obtain the label, please read the article, "Where can growers find the special 24c label for using Bravo Weather Stik past shuck split."
On Monday, May 25, the epiphytic infection potential (EIP) values on the Maryblyt fire blight model on Enviro-weather were under 100 for most of the region and EIP values are predicted to be well above 100 for the remainder of the week, which is predicted to be very warm and wet. Many growers protected open blossoms prior to Sunday's rain, and growers have also used or are planning to use Apogee to slow shoot growth and prevent the spread of fire blight bacteria into woody tissue. Although full bloom has passed in many apple varieties, some tag blossoms will open in the coming days and these flowers are also susceptible to possible fire blight infection in optimal conditions. Apogee will help prevent the spread of fire blight in trees that had blossom infections or if tag blossoms become infected.
American brown rot development will be favored by warm and wet conditions this week. American brown rot may be a challenge for cherries that were damaged by freeze. We had a similar situation a few years ago where frost-damaged fruit were infected by the American brown rot fungus, even when the cherries were green and had no sugars in them. Succinate dehydrogenase inhibitor (SDHI) fungicides such as Merivon have excellent efficacy against American brown rot, cherry leaf spot and powdery mildew, and would be a good option for growers at the first cover timing when disease pressure for all three of these diseases could be high.
Cool conditions slowed insect activity last week and although wet conditions are predicted, we will likely see more insect activity as temperatures warm up this week. We are continuing to see a few small obliquebanded leafroller larvae in unsprayed orchard blocks. American plum borer and lesser peach tree borer moths are active in low densities in cherries at NWMHRC this week, about three American plum borers per trap and five lesser peach tree borers per trap. We have passed peak spotted tentiform leaf miner flight at this time.
We have not found oriental fruit moths or codling moths at NWMHRC, but we have received reports that codling moths were detected in Antrim County last week. We could see codling moth flight during warm nights this week. Plum curculio adults were active in Benzie and Manistee counties last week, and egglaying scars were observed in sweet cherries. Plum curculio and codling moth activity will increase if we have warm, overnight temperatures.