Northwest Michigan fruit update – May 16, 2017
Growers are assessing damage from last week's cold events, and with warm and wet conditions in the forecast, applications are being made to prevent diseases.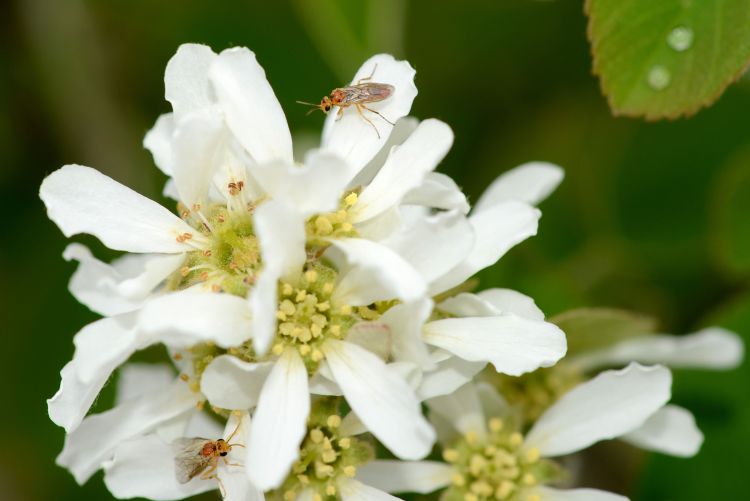 Weather report
Daytime temperatures were mostly pleasant for the past week, although the northerly wind made it seem colder than the thermometers recorded. Nighttime temperatures have been cool, and there was even some frost reported on farms the morning of May 15. Some growers ran their frost fans overnight May 15.
We have accumulated 356 growing degree-days (GDD) base 50 and 146 GDD base 42, and these accumulations are behind our 20-plus-year averages. Conditions are quite dry across the region, and we could use rain. We had a small amount of rainfall on Saturday, May 13, and the Northwest Michigan Horticulture Research Center Enviroweather station recorded only 0.08 inch of rain. Rain is in the forecast for this week.
GDD accumulations as of May 15, 2017, at Northwest Michigan Horticulture Research Center

GDD

2017

2016

2015

2014

2013

2012

27-year average

GDD42

356

346

370

241

325

636

384.7

GDD50

146

142

167

90

174

321

176.8
2017 growth stages as of May 15, 2017
Bartlett Pear – Full bloom
Potomac Pear – Full bloom
McIntosh – Open cluster
Gala – King bloom
Red Delicious – King bloom
Honey Crisp – King bloom
Montmorency – Full bloom
Balaton – Full bloom
Hedelfingen – Petal fall
Gold – Early petal fall
Napoleon – Petal fall
Riesling – Early bud swell
Crop report
A week of relatively cold weather really slowed the development of wine grape buds. Riesling at the research vineyard is mostly in the late bud swell stage. No pest insect activity has been reported from commercial vineyards. Wild vines in our area are more advanced, with some bud break. This is the time grape flea beetle adults appear on wild vines, and occasionally these show up in commercial vineyards. The injury from this insect is usually of minor importance. Climbing cutworm activity may pick up soon if we get some warm evening temperatures. Vineyards with a history of this pest should be monitored for symptoms of feeding injury.
Local saskatoon plantings are at about 50 percent bloom. The first adult apple curculio and saskatoon sawflies have been taken in sweep net samples in the Traverse City, Michigan, area. These insects will not lay eggs until after fruits are set. We are not certain of the prime infection periods for Entomosporium leafspot or saskatoon-juniper rust, but these fungal diseases may now be releasing spores if rainy weather occurs.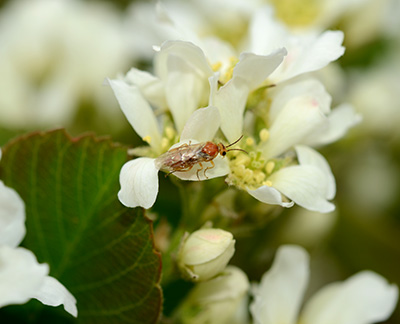 Growers are still evaluating the impacts of last week's frost/freeze events. Growers that had frost fans or irrigation fared better than growers without these technologies. Some areas of northwest Michigan are reporting more damage than other regions. The more southerly areas of the region were harder hit than orchards to the north. Orchards in Manistee and Benzie counties recorded low temperatures, and in some cases, the lows hit 21 and 22 degrees Fahrenheit. Growers in that area weighed their options for Promalin/Perlan applications, but the window for a Promalin/Perlan application has passed following last week's frost/freeze.
In most situations, the amount of damage seems less than we anticipated last week. Apples in low spots have obvious damage, but apples on higher sites fared well. Growers are still optimistic they will have a good apple crop despite the freeze damage.
Tart cherries seem to have come through the cold events with less damage than we estimated last week, and growers in northwest Michigan feel they will likely have an average size crop for 2017, although it is early to make this determination. Tart cherries are just hitting full bloom at the research center, and we had excellent pollination weather on May 15. Warm conditions are expected today, so we anticipate bees to fly if the rain holds off.
There is a varying level of damage in sweet cherries throughout the region with the most significant damage primarily in orchards on marginal fruit sites. Sweet cherry bloom seems to be hanging around for a long time this year, so we are hoping they were pollinated even though we had cool conditions last week.
Pest report
We received spotty, light rains that were not predicted in parts of the region on the morning of Saturday, May 13. Fortunately, temperatures were cool, we had very little rainfall accumulation and the moisture dried up quickly enough that no apple scab or cherry leaf spot infections resulted from this short wetting event. Although we do not have models on Michigan State University Enviroweather for the brown rot pathogens, it is unlikely conditions were wet or humid for long enough to cause blossom blight.
Although wet conditions did not last long enough for an infection, apple scab spores discharged at a relatively higher rate than we have previously observed (Table 1). While these numbers seem low overall, MSU Extension reminds growers it is not the numerical value or volume of spores that are released, but the relative pattern of release that is applicable. In other words, this pattern of spore release is typical and we should continue to see an increasing trend of spore counts until petal fall, as long as wetting events occur during daylight hours (i.e., spores have a tendency to release more readily in late morning/afternoon rains) and have enough rain (i.e., 0.01 inch) to discharge spores. We had a few scab infection periods in late April, and symptoms should be visible this week if tissue became infected at that time.
Table 1. Apple scab spore discharge, 2017

Date

Total # spores

Avg. # spores

4/15/17

6

3

4/16/17

2

1

4/20/17

10

5

4/27/17

1

0.5

4/28/17

4

2

4/30/17

12

6

5/1/17

12

6

5/2/17

7

3.5

5/13/17

30

15
In apple varieties with open blossoms, fire blight is a concern this week in predicted warm and wet conditions. Many growers with open blossoms made their first fire blight spray on Monday, May 15, prior to the predicted overnight rains. Following last year's fire blight challenges, it will be critically important to be proactive with fire blight management this season.
As a reminder, in areas with streptomycin resistance, Kasumin is the only effective option to kill the bacteria and knock back fire blight populations. Additionally, Kasumin is unlike streptomycin as it does not have systemic activity and this material needs to be applied prior to rain. Please see the following MSU Extension articles for more information on fire blight management: "A primer for streptomycin, kasumin, and oxytetracycline use for fire blight management," "Forecasted weather is a concern for fire blight during bloom" and "Apogee application time." Additional information can also be found in the "2017 Michigan Fruit Management Guide" on pages 108 and 259.
Many growers made their first cherry leaf spot applications last week or early this week, depending on location. As mentioned previously, Saturday's rain likely did not result in an infection period as temperatures were cool and the period of wet weather was brief. Enviroweather will not report infection periods until after bloom time, but there is susceptible leaf tissue present in most orchards at this time. Growers should consider leaf spot protection this week as the current conditions are predicting warmer temperatures with several days of wet weather that could result in a long infection period if areas do not receive adequate drying time between wetting events.
For growers thinking about American brown rot management in sweet cherries: If warm and extended wet conditions that are predicted do occur, this weather could be conducive for blossom blight. Some growers made an application for American brown rot on Monday, May 15.
Insect activity continues to be relatively slow with a little activity of spotted tentiform leafminers in apples and green fruitworm and American plum borer in cherries at the station (Table 2). We will continue to look for small green fruitworm and leafroller larvae.
Table 2. Northwest Michigan Horticulture Research Center Insect trapline data, 2017

Cherries

April 25

May 2

May 9

May 16

Green fruitworm

14

1

6

2

American plum borer

2

Apples

April 25

May 2

May 9

May 16

Oriental fruit moth

0

0

0

0

Spotted tentiform leafminer

52
It is also time to put up traps to monitor for the first male flight of San Jose scale; we have been getting more reports of this pest in older sweet cherry orchards this season. The next timing to manage scale is during the crawler stage, which typically occurs about two weeks after peak male flight. If not already done, mating disruption tools should be in place soon. It is not too early for growers approaching petal fall in cherries to consider their early-season insect pest spray strategies in the context of season-long pest management.
Finally, check with processors on acceptable management tools and chemistries if you have not done so already.