Northwest Michigan wine grape report — Sept. 20, 2017
Northwest Michigan wine grape vineyards have decreased spotted wing Drosophila activity, and grapes are proceeding normally through veraison.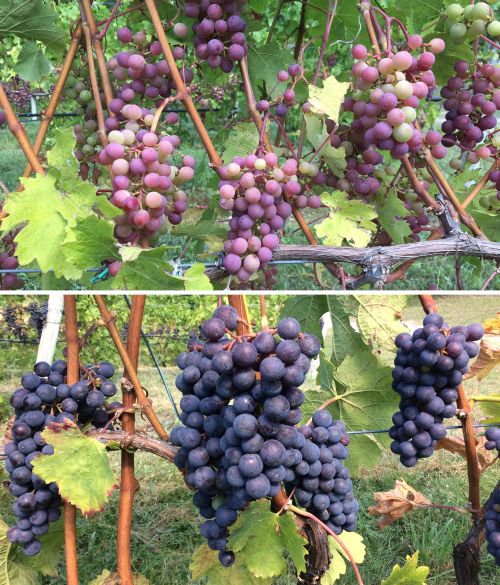 Spotted wing drosophila (SWD) populations typically increase, often exponentially, through the growing season. However, in 2017 we measured a sharp decline of SWD adults trapped at vineyard borders in all regions where we had SWD traps at vineyard sites. SWD population declines were particularly notable in vineyards near north central Old Mission Peninsula from Aug. 31 through Sept. 6 (Figs. 1–3).
The cause of this somewhat unusual population decrease is likely a result of the weather where relatively low temperatures (maximum, average and minimum) and increased rainfall were recorded (Fig. 4). We observed a decrease in overall daytime (and nighttime) temperatures, and a relatively rapid decrease in minimum temperatures that fell from 55 degrees Fahrenheit on Aug. 31 to 42 F on Sept. 2 (Fig. 4). The region also had increased rainfall on Sept. 4 (0.7 inch), Sept. 5 (0.2 inch) and Sept. 6 (0.5 inch).
From Sept. 6–14, SWD populations remained low, possibly due, again, to relatively low average and minimum temperatures on Sept. 9 being 52.7 and 38.8 F, respectively. We will continue to monitor for SWD adults and we will be able to document SWD population activity with the recent warm temperatures and dryer conditions during the week of Sept. 14–20.
As part of the northwest Lower Michigan wine grape report, we will collect berries and measure fruit maturity factors including 100 berry weight, degrees brix, pH and titratable acidity of juice. However, for this report, we were only able to measure 100-berry weight and juice degrees brix from berries sampled from multiple cultivars located in the south Old Mission Peninsula region on Sept. 18 (see table).
As expected, Cayuga White (hybrid) has the heaviest 100-berry weight at 264 grams with a 17.1 brix (see table). Of the Vitis vinifera cultivars at the 2,049 growing degree-day (GDD) mark, Merlot has the heaviest 100-berry weight at 166 grams followed by Cabernet franc at 154 grams, Riesling at 124 grams and Chardonnay at 119 grams. Although having the lightest berry weight, Chardonnay has separated itself from the other V. vinifera cultivars with the highest brix of 19.0 followed by Merlot at 15.1, Riesling at 14.5 and Cabernet franc at 14.2 (see table).
Growers in this region have considered the grape maturity development as "within the normal range," considering the relatively cool growing season so far. In fact, Cabernet franc grapes have gained significant color from Sept. 8–18 (see photo). As a general rule, thin-skinned grape cultivars are more susceptible to SWD damage than thicker-skinned grape cultivars, and Michigan State University Extension recommends keeping track of SWD population fluctuations, particularly if they start to rise again and fruit become more susceptible.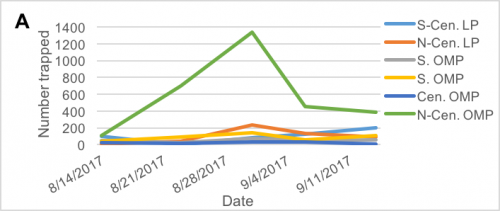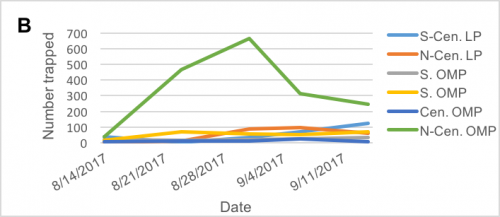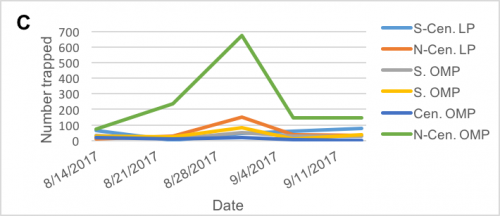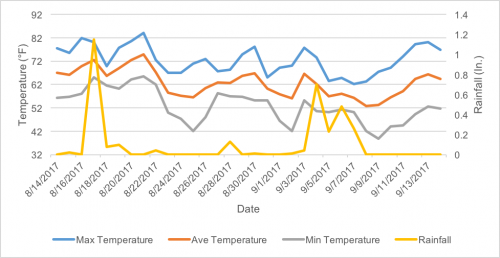 100-berry weight, brix and corresponding GDD of five wine grape cultivars located in the South Old Mission Peninsula region in northwest Lower Michigan.

Date

GDD

Location

Cultivar

100-berry
weight (grams)

Brix

Sept. 18,
2017

2,049

South Old
Mission Peninsula

Cayuga (Hybrid)

264

17.1

Riesling (V. vinifera)

127

14.5

Chardonnay (V. vinifera)

119

19.0

Cabernet franc (V. vinifera)

154

14.2

Merlot (V. vinifera)

166

15.1