Now is the time to get familiar with resources available from Michigan Natural Features Inventory
Multiple data resources created and managed by MNFI can be key to helping those who are actively managing Michigan's biodiversity and others who simply want to learn more about Michigan's diverse species.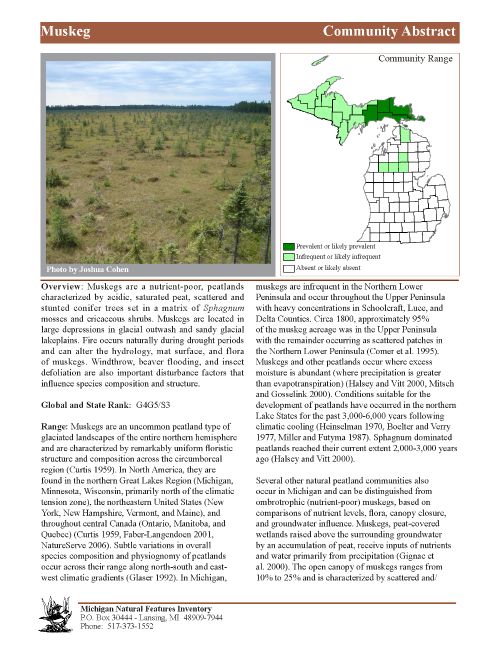 Biodiversity, short for biological diversity, refers to the complexity or variety of plants, animals and other living things in a particular area or region. Species diversity is only one component integral to biodiversity. There are several other integral components, such as genetic diversity (variation in genes that exists within a species) and ecological diversity (diversity of ecosystems, natural communities and habitats). In summary, biodiversity integrates species, genetic, and ecosystem diversity and the connections between these and all species. On the largest scale, the earth's biodiversity includes all the species that exist across the globe. On a much smaller scale, biodiversity of one of Michigan's thousands of inland lakes includes all the species within that lake ecosystem. Importantly, getting a handle on Michigan's biodiversity is not a task for the faint at heart.
Luckily, Michigan Natural Features Inventory (MNFI), an important program of Michigan State University Extension, offers a suite of high quality resources that can help those interested in and/or actively working to conserve Michigan's biodiversity. The mission of MNFI is to deliver the highest quality information that contributes to the conservation of biodiversity, especially rare and declining plants and animals and the diversity of ecosystems native to Michigan. Since 1979, MNFI has developed, maintained and managed the only statewide biological and conservation database on rare plants and animals in Michigan. Federal, state, local and private agencies use these data to guide decisions related to land management, development and conservation.
One publicly accessible data resource available is the Rare Species Explorer, which is a database containing information on Michigan's 723 rare plants and animals. The database is searchable by scientific or common name, taxonomic group, habitat/community type, survey time, protection status or rank, eco-region and county. A search results in a customized list of species with information including key characteristics, habitat, occurrences, natural community types, management and more.
Another valuable MNFI data resource is a comprehensive list of Michigan's Natural Communities. A comprehensive listing is available for each natural community that exists in Michigan. Information included for each natural community includes a community overview, landscape context, soils, natural processes, vegetation, noteworthy animals, rare plants and animals, biodiversity management considerations, variation, similar natural communities and a link to the community abstract. Two examples of natural community types include muskegs and oak openings.
The MNFI website also has extensive information on other topics such as invasive species and how to control them. These resources are particularly pertinent with the announcement by Governor Rick Snyder that Michigan will be receiving approximately $5 million in funding to battle invasive species in the state. Several resources are available at the MNFI web site:
MNFI has also joined together with the Michigan Department of Natural Resources Wildlife Division and State Park Stewardship staff to develop a series of "Best Control Practice Guides" to help those trying to combat some of Michigan's nastiest invasive plants.
This is only the tip of the proverbial iceberg of information available from MNFI. To find out what other data, programs, services, and educational resources they offers, visit the MNFI website.