Nutrition label lingo
Food label clues aid in chronic disease management.
August 6, 2018 - Author: Pamela Daniels, Michigan State University Extension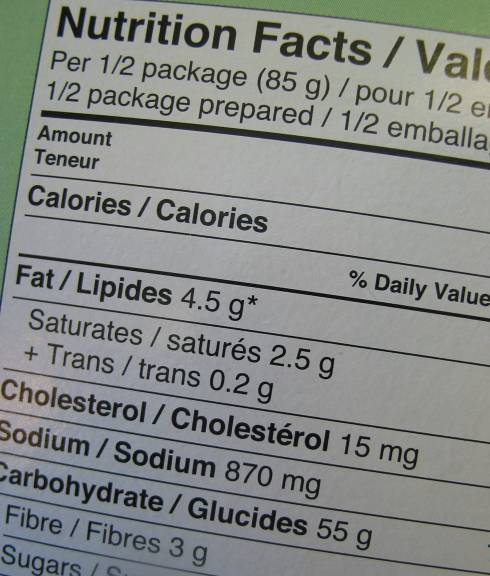 The concept of food labeling has existed since the early 1900's. There are many nutritional facts listed on food labels that are easy to use and are there to assist as a dietary guide. Understanding the nutritional value of the food we eat allows us to better control our health and manage our weight.
Even before you prepare or eat the food, the food label serves as your nutritional guideline for making smart shopping decisions. Reading food labels at the grocery store gives you an opportunity to compare products and make better food choices, which is especially important if you a have chronic disease, are diabetic or pre-diabetic.
Listed as nutritional food values and daily allowance on most food labels are calories, carbohydrate, sugar, fat and fiber. Understanding each of these numbers will encourage better self-care.
The lingo on food labels can be confusing, Michigan State University Extension offers the following clues when reading the labels on your food:
Serving size – the single most important clue:
Serving size is typically listed first under nutrition facts on almost all food labels.
Serving size is by far the most important value to identify on all food labels, therefore you should never guess or assume a serving size, no matter the size of the package. Reading the food label's serving size will be your starting point in calculating the food values you choose to eat.
Watch out for packaging deception! What may appear to be a small, single-sized package could, in reality, be two or more servings. Consuming the entire package means a double dose or more of what is listed on the label.
Calories per serving – two hidden clues:
Calories are the amount of energy per serving. Almost all food nutrition labels are based on a 2,000 or 2,500 calorie diet.
Foods with high calories from fat should be avoided and eaten sparingly. Total fat intake should be no more than 30 percent of total calories.
Label limits –control or eliminate these ingredients for better disease self-management:
Total fat – all types of fat, especially saturated and trans fat, are linked to health problems and weight gain.
Cholesterol – foods that are high in cholesterol also tend to raise blood cholesterol. These foods include liver and other organ meats, egg yolks and dairy fats.
Sodium– salt (sodium chloride) is the main source of sodium in foods. Only small amounts of salt occur naturally in foods so most of the salt you eat comes from foods that have salt added during food processing or during preparation in a restaurant or at home.
Added sugar – know natural sugars from added sugars to reduce your consumption of sugar.
The most current food label updates were made on May 20, 2016, by the U.S. Food and Drug Agency (FDA). The FDA announced the new nutrition facts label for packaged foods to reflect new scientific information, including the link between diet and chronic diseases such as obesity and heart disease. The new label will make it easier for consumers to make better informed food choices.
Michigan State University suggest the following nutrition and disease management resources:
---