Oakland County forms new food policy council
Launched in September, this council is joining a sizeable network of food policy councils throughout Michigan.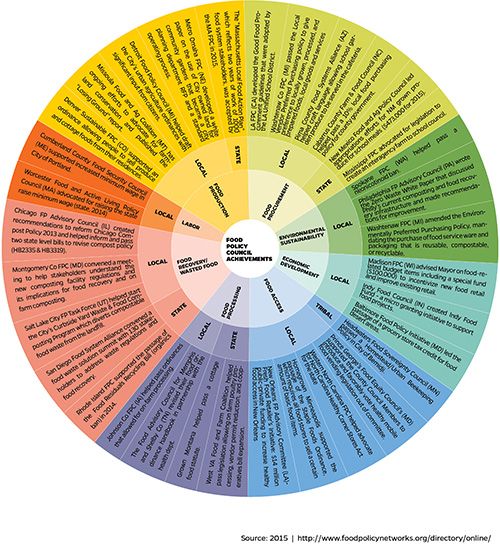 Earlier this year, a new food policy council was formed, joining the network of existing councils spread across the state. This new addition is from Oakland County, the second most populous county in Michigan, located in the metro-Detroit region.
Food councils vary widely in focus and in mission. The formation of the Energizing Connections for a Healthier Oakland County (ECHO) food policy council was motivated by a multi-year community engagement and research project, undertaken by the Oakland County Health Division. The council is named after this project, called ECHO, which resulted in the Community Health Assessment (CHA) and the Community Health Improvement Plan (CHIP).
Based on the vision and needs of Oakland County residents that participated in the ECHO process, the CHIP recommended a number of actions that would address the concerns of participants around food systems. The first of these objectives was to form a food policy council, which has already occurred. The council has brought together a variety of Oakland County community stakeholder sectors including; healthcare representatives, parks and recreation, health division staff, community non-profit organizations, schools, Michigan State University Extension, farmer markets, food producers and much more. Although this list shows healthy representation, there were a number of sectors and areas that were not represented, and the council is working to partner with and bring representatives from these sectors into the current conversation.
While the CHIP laid out a number of short, medium and long-term objectives and recommendations, the food policy council is taking a participatory approach to determine its focus and next steps. The first two meetings of the council have reviewed what work has already happened through the CHIP and CHA, take the time to understand what a community food system is, assess what sectors of the food system are represented and who else should be included. The group intends to use the objectives in the CHIP to inform the participatory process of determining what it will focus on and how it will advance the group's goals.
Some of the objectives laid out in the CHIP include; increasing healthy food access by promoting healthy corner store initiatives and gardens at schools, homes and in community spaces; increasing the amount of healthy food donated to food banks and pantries; identify opportunities to expand access to healthy and affordable food at farmers markets.
For more information about the Oakland County Food Policy Council, see the ECHO website, or contact the staff overseeing ECHO at echo@oakgov.com. Meetings are not yet on set days of the month but are occurring on a regular bi-monthly schedule.
Michigan State University Extension supports the development and advancement of community food systems through local food policy councils. For more information on food councils and other local food topics, consider subscribing for news on community food systems.