Ontario Ojibwa members travel to U.P. to attend Seafood HAACP training
Anishnawbeg Iskatewizaagegan of Kiigoogewin working to reopen walleye fishery in Shoal Lake, Ontario.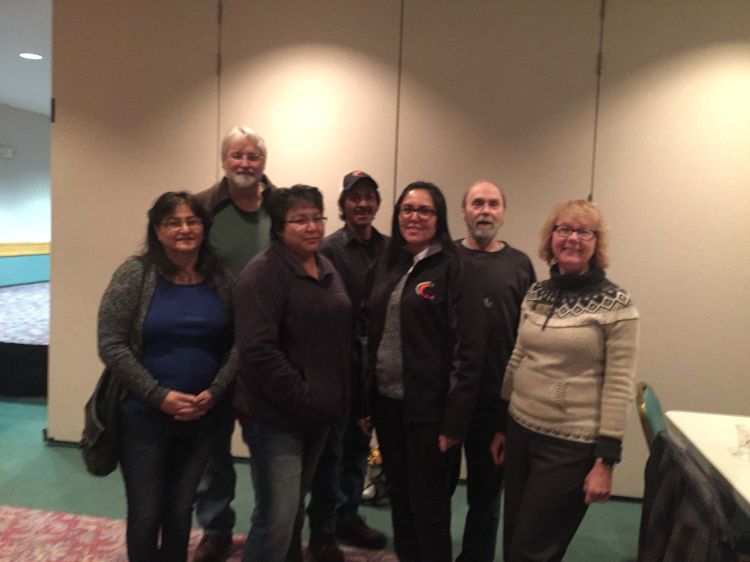 A Seafood Hazard Analysis Critical Control Point (HACCP) training course coordinated by Michigan Sea Grant, Michigan State University Extension, and the Great Lakes Indian Fish and Wildlife Commission was recently held at Bay Mills Resort and Casino. Four people traveled from the Iskatewizaagegan (Shoal Lake 39), Treaty Territory to attend the course. The Shoal Lake 39 First Nation is an Ojibwa or Anishinaabe First Nation located along the northwestern shores of Shoal Lake, Ontario, and is officially known as Iskatewizaagegan #39 Independent First Nation. The total registered population of the Iskatewizaagegan Nation is 575, of which 289 live on its reservation.
The four attendees are members of the Anishnawbeg Iskatewizaagegan of Kiigoogewin Fisheries Advisory Council for Shoal Lake No. 39, Treaty 3 Territory. Their Fisheries Advisory Council is working toward re-opening the walleye fishery on Shoal Lake, which was closed by the Ministry of Natural Resources of Ontario in 1983. Under the fisheries strategy they are building capacity, developing market research, researching fisheries management and long-term sustainable plans which are paramount to reaching their goal.
Although the City of Winnipeg has been drawing the waters of Shoal Lake for its use for more than one hundred years, the Shoal Lake 39 First Nation's consent has never been obtained for such use. In 1989, the adjacent Shoal Lake 40 First Nation made an agreement with the City of Winnipeg for compensation for economic loss due to the city's use of Shoal Lake waters. The Shoal Lake 39 First Nation does not have a similar agreement. The Shoal Lake 39 First Nation has repeatedly brought concerns to the city's attention, most recently over plans for the city to sell Shoal Lake water to outlying communities. The water taken out of Shoal Lake for use in Winnipeg has required artificial maintenance of lake levels which has led to the loss of fishing and wild rice resources, according to Shoal Lake 39 First Nation.
The Shoal Lake 39 First Nation hopes to establish a fishery for walleye on Shoal Lake. With the training they received in Seafood HACCP they will be in a good position to process the walleye into value-added products which will help bring additional revenue to their nation.
Michigan Sea Grant helps to foster economic growth and protect Michigan's coastal, Great Lakes resources through education, research and outreach. A collaborative effort of the University of Michigan and Michigan State University and its MSU Extension, Michigan Sea Grant is part of the NOAA-National Sea Grant network of 33 university-based programs.