Order native plants for shorelines early
Native plants are grown for local markets. If you are planning a shoreline restoration ordering your plants well in advance of need ensures that the provider will have enough for your needs.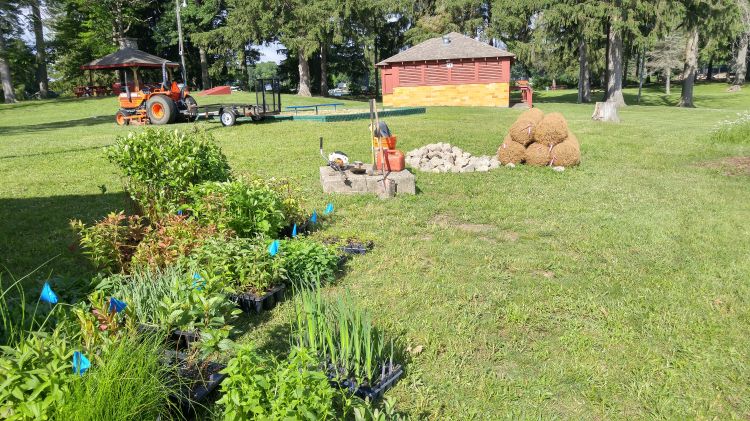 Aquatic native plants are specific to their region and a considerable investment is needed to create the right environmental conditions for reproduction and growth. Many suppliers of native plants and seeds offer wetland evolved and tolerant plants, but not all of them are emergent and submergent native freshwater plants necessary for lakeshore restoration.
However, there are several native plant nurseries in Michigan, Wisconsin, Indiana and Ohio that do provide locally grown native plants suitable for restoration projects.
According to Bill Schneider, from Wildtype Native Plants - Ecological Service in Mason, pre-ordering specific wetland plants depends on the market as a whole.
For example, a wholesale customer seeking a large quantity of a single species (5,000 or more), requires advance notice in order to meet their needs. Conversely, the retail customer is usually limited to catalogue choices. However, it is often the retail customer's creativity that tends to drive the landscaper and project manager to ask for the unique native plant; whereas the wholesale customer commonly requests standard catalogue items.
Schneider cautions that if you seek a unique or unusual species that needs seed to be collected for a specific project, requests should be made in advance (as much as a year) of the seed availability. This gives the grower time to collect or acquire the seed requested.
Schneider added, "For my nursery, any plant I'm growing from seed for spring availability, I don't want ready [for planting] before May 15 (the frost free date). We time our starting date based on having everything ready for last frost. Woody plants are available well before the frost free date. "
Planning your native shoreline restoration or landscaping project early and ordering well in advance will ensure the largest variety possible. Native plant nurseries are committed to providing quality products and often offer additional expertise to homeowners, landscapers, and project managers.
With over 20 species of freshwater emergent plants and up to 100 species of prairie wetland adapted plants commonly available from nurseries within the state, there are a lot to choose from.
Michigan State University Extension encourages using native plants exclusively near waterbodies and wetlands to help maintain the health of the ecosystems and reduce the spread of aquatic invasive species.
For more information about natural shoreline restoration, Michigan Natural Shoreline Partnership, Michigan Clean Boats, Clean Waters or aquatic invasive species contact Beth Clawson, MSU Extension Educator.
To learn more about invasive organisms and invasive aquatic plants, contact Michigan State University Extension Natural Resources educators state-wide who work to provide aquatic invasive species educational programming and assistance. You can contact an educator through MSU Extension's Find an Expert search tool using the keywords "Natural Resources Water Quality."