Out of the box stall: Exploring a new 4-H project
Build off the experiences you have already had by adding in a new 4-H animal project. Numerous learning opportunities exist beyond a specific 4-H project area.
April 28, 2014 - Author: Julie Thelen, Michigan State University Extension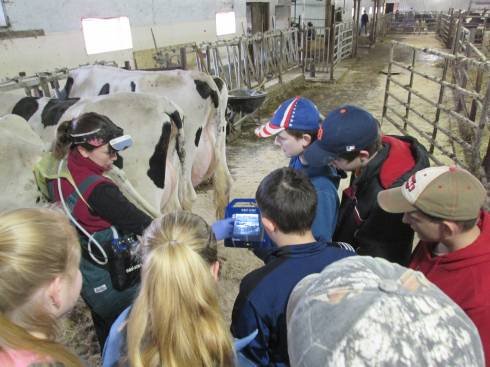 Have you ever thought about trying a new 4-H animal project? There is no time like the present. 4-H learning experiences can easily transfer from one project to another. While at the Michigan 4-H Dairy Conference, 4-H members shared this same realization. Matthew Poling from Hillsdale County said, "4-H has taught me about animal nutrition, but also responsibility because you need to go out there and work with it."
Michigan State University Extension, Michigan 4-H and local 4-H clubs offer numerous opportunities to gain life skills and content area beyond just one major project. Three main options are offered to youth involved in animal projects.
Camps, conferences and workshops – Ready to learn? Numerous 4-H Youth and Volunteer Training Workshops and camps are held around the state throughout the year. These trainings vary in topic from specie specific such as 4-H Teen and Adult Horse Leaders Conference to generalized animal projects like 4-H Animal and Veterinary Science Camp.
Competitive events – Put what you have learned to work! Compete in events this summer like Dairy Judging, Livestock Judging, Meats Judging, and Rabbit Judging and Rabbit Skill-A-Thon. State shows at the MSU Pavilion also exist for several animal species.
Field trips – Field trips occur aside from the school year. If you want to learn more, arrange a field trip to visit farms and facilities that can help you learn more about the entire 4-H project experience. This could also be a great learning experience for individuals or an entire 4-H club activity.
In looking to learn more, Forrest Nash from Clinton County said, "There are a lot of other things out there that can help you broaden your horizon. Dairy helps with the physical and mental abilities while other projects like judging influence mental capabilities such as public speaking."
When thinking about trying a new project, be optimistic. William Ankley from Lapeer County stated, "I started with a dairy project and added poultry and beef. I enjoy the added challenge of showing two new species."
For an enjoyable challenge and extra learning experience, consider trying a new 4-H project in 2014!