Partial budget for using fungicides to control head scab in wheat
Editor's note: This article is from the archives of the MSU Crop Advisory Team Alerts. Check the label of any pesticide referenced to ensure your use is included.

Along with record prices expected for wheat, there has been a high degree of interest in fungicides to control Fusarium head blight and decrease DON levels. In the last Field CAT Alert, we discussed instances where a fungicide application could either be cost effective or result in inadequate return to growers. A partial budget worksheet has been prepared to help you calculate the cost of applying a fungicide and the potential benefits of an application to determine whether a fungicide application will be economical in your situation. A sample budget has been included as an example, but your own numbers should be used to prepare a budget that reflects your expected yields and costs.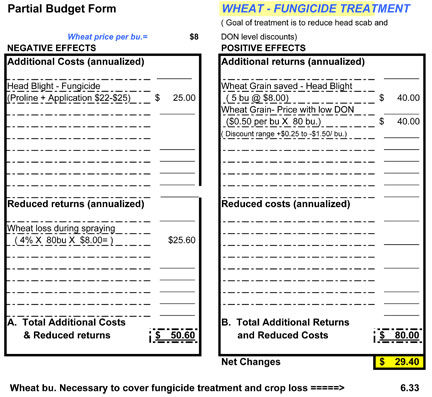 (Click here for PDF)
Example: (Click here for an interactive worksheet with instructions, an example and a blank worksheet.) The information used above is only an example of what could happen for your farm. Please take the time to input your farms projected yields, and your farms projected cost for the application of fungicides to your wheat crop. You should also adjust the price to reflect your contract price or the price you expect to receive at wheat harvest.